Registration Now Open!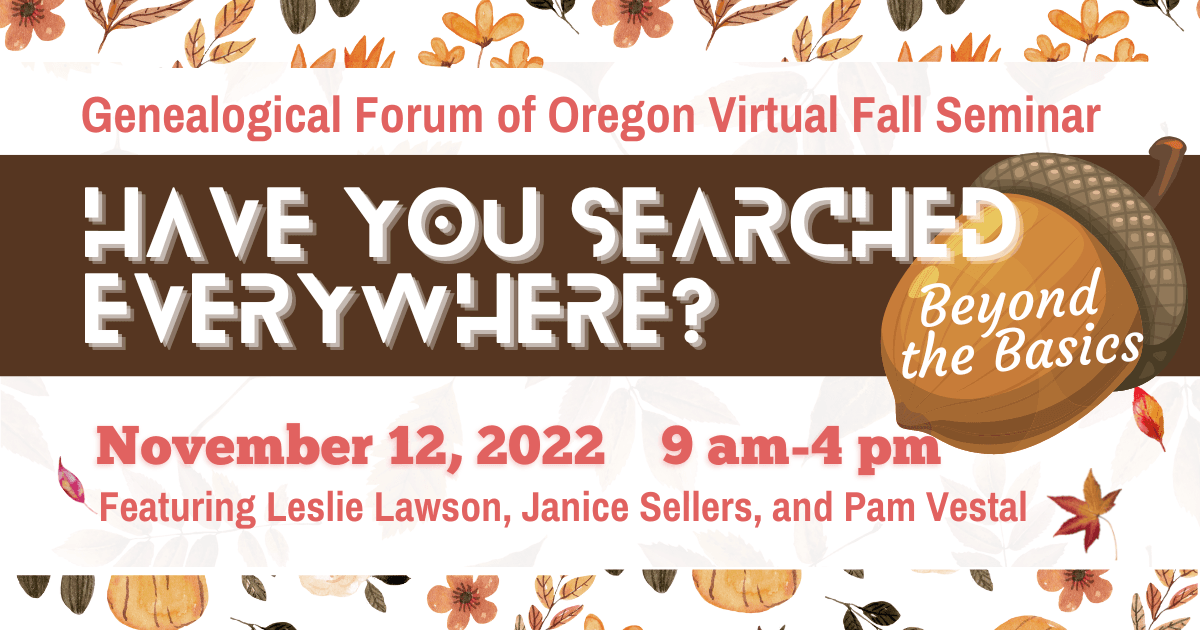 ---
Virtual Fall Seminar 2022
This form stopped accepting submissions on November 12, 2022 3:00 pm PST.
Member price: $40
Non-Member price: $55

Have You Searched Everywhere? Beyond the Basics
Go beyond the basics and become familiar with lesser-known genealogical strategies and resources. Come join us on Saturday, November 12th for this one-day event. We start with presenters that will show you how to find living people and how you can get better results with your newspaper searches. Then join us for a workshop on discovering your ancestors' locations. Learn how collateral research and using less common sources can help break down those brick walls.
9:00 a.m. - 10:00 a.m. (PT) with Leslie Brinkley Lawson

Let's Find Living People: Locating People in the Last Century
10:15 a.m. - 11:15 a.m. (PT) with Janice M. Sellers

Read All About It! Using Online Newspapers for Genealogical Research
1:00 p.m. - 4:00 p.m. (PT) with Pam Vestal

Finding our Ancestors' Locations - INTERACTIVE WORKSHOP
---
Meet Our Speakers
---