GenTalks
Gen(ealogy)Talks are less formal, genealogy-related presentations that take place at the GFO library several months per year, generally on the third Saturday at 2 p.m. GenTalks are FREE and open to the public, so, member or not, check out our Calendar page and come spend an hour or so with us!
---
Upcoming GenTalks:
---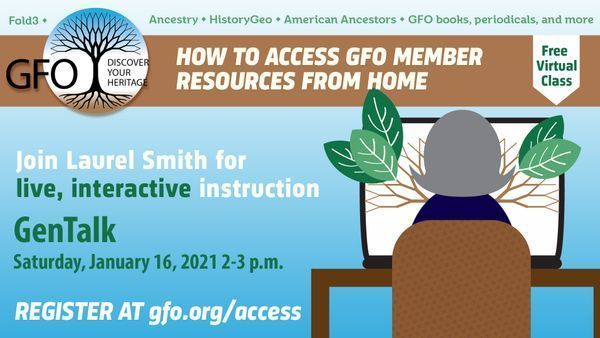 Genealogical Timelines & Research Checklists
January 16, 2 p.m. (online)
Presenter: Laurel Smith
Learn what GFO members CAN access RIGHT NOW from home -- and how to do so. We'll also go over what's changed as the GFO adds new resources to its website each month.
Learn to tap databases from your home:
Ancestry.com
Fold3
HistoryGeo
American Ancestors
Learn how to use Member Lookups to access resources in the GFO Library:
Personal Research Assistance
Newspapers.com
Books
Periodicals
Microfilms
Fiche
And more!
Join Laurel Smith via Zoom to learn how to make best use of these resources from the safety of your home.
---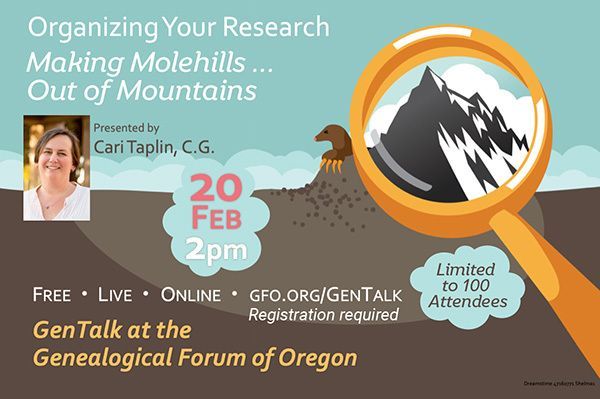 Making Molehills out of Mountains: Organizing Your Research
February 20, 2 p.m. (online)
Presenter: Cari Taplin, C.G.
Do you LOVE the research part of genealogy but DREAD the next step of data-entry and organizing your findings? You are NOT ALONE! Organization allows you to better utilize research time. Learn methods for organizing documents and notes, building a better research log, and time management tips.
The Importance of Being Organized
Methods for Organizing Files (will demonstrate both paper and digital)
What to include in any system
Processing Systems – What do you do when you find a new record?
Time Management Tips for Genealogists
Cari A. Taplin is related to Roy Rogers. Or at least that's what her family told her. As a result, finding her true heritage has been her focus since the year 2000. She is a native of Wood County, Ohio but migrated to Wyoming, Colorado and now Pflugerville, Texas which is just outside Austin. Cari holds the Certified Genealogist® credential and has served in a wide variety of volunteer and leadership positions for state, local, and national societies.
---
The handouts for some of our more recent GenTalks can be found on our Handouts page.