GenTalks
Gen(ealogy)Talks are less formal, genealogy-related presentations that now take place online live several months per year, on the third Saturday at 2:30 p.m. (Pacific). GenTalks are FREE and open to the public, so, member or not, check out our Calendar page and come spend an hour or so with us!
---
Upcoming GenTalks:
---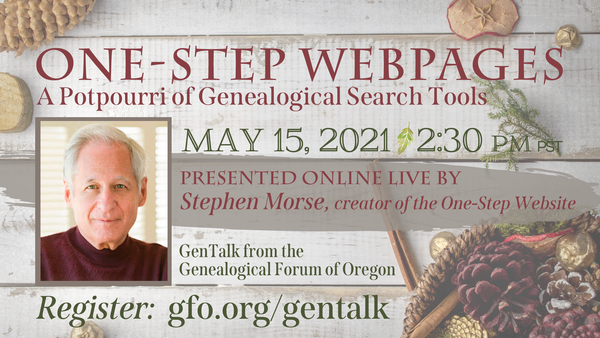 One-Step Webpages: A Potpourri of Genealogical Search Tools
May 15 @ 2:30 p.m. PDT (online)
Presenter: Stephen P. Morse, Ph.D.
The One-Step website started out as an aid for finding passengers in the Ellis Island database.  Shortly afterward it was expanded to help with searching in the 1930 census.  Over the years it has continued to evolve and today includes about 300 web-based tools divided into 16 separate categories ranging from genealogical searches to astronomical calculations to last-minute bidding on e-bay.  This presentation will describe the range of tools available and give the highlights of each one.
Stephen Morse is the creator of the One-Step Website for which he has received both the Lifetime Achievement Award and the Outstanding Contribution Award from the International Association of Jewish Genealogical Societies, Award of Merit from the National Genealogical Society, first-ever Excellence Award from the Association of Professional Genealogists, and two awards that he cannot pronounce from Polish genealogical societies.
In his other life, Morse is a computer professional with a doctorate degree in electrical engineering and is best known as the architect of the Intel 8086 (the granddaddy of today's Pentium processor).
---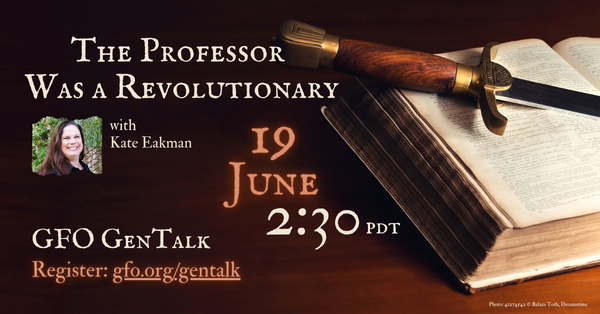 The Professor Was a Revolutionary
June 19 @ 2:30 p.m. PDT (online)
Presenter: Kate Eakman, MA
The task was simple enough. The client provided photographs and stories of his grandfather, census reports, a marriage certificate, and a mystery to solve: Locate the birth and death certificates for the client's grandfather, born in England in about 1865. Twenty years of research had failed to uncover any reference to his grandfather before the birth of his children. Using a 100-year-old mystery, we walk through the process of performing thorough analysis and correlation, and learn how paying close attention to one word on one document unlocked a family secret.
Kate Eakman holds an MA in History from the University of North Carolina at Chapel Hill. She spent 20 years as a college history instructor, during which time she created a genealogically-based study of U.S. History.
Today she is a Senior Researcher and Team Lead for Legacy Tree Genealogists, the author of two articles for the APG Quarterly, as well as "Discover the Story of Your Civil War Soldier Ancestor" (2013). Kate lives in Gresham, Oregon. She and her husband have a retired racehorse named Leon, and the three of them provide opportunities for disadvantaged children to experience a very large animal up close and in person.
---
The handouts for some of our more recent GenTalks can be found on our Handouts page.