GenTalks
---
Gen(ealogy)Talks are less formal, genealogy-related presentations that now take place online live several months per year, on the third Saturday at 2:30 p.m. (Pacific). GenTalks are FREE and open to the public, so, member or not, check out our Calendar page and come spend an hour or so with us!
Some handouts from previous GenTalks can be found here, for a limited time.
Upcoming GenTalks:
---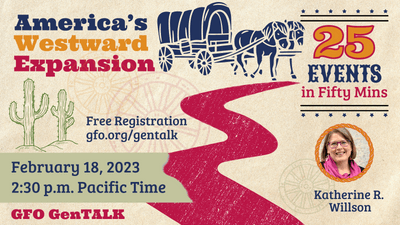 America's Westward Expansion: 25 Events in 50 Minutes
Feb. 18, 2023 @ 2:30 p.m. PT (online)
Click here to register and obtain a Zoom link to this live presentation.
Presenter: Katherine R. Willson
This presentation examines 25 U.S. Congressional acts and other major events that comprised westward migration between 1787 to 1890. Particular attention is paid to America's laws regarding territorial boundaries, stances on slavery, and wars against Mexico and Native Americans.
Katherine R. Willson of Dexter, Michigan, is an engaging and dynamic genealogy lecturer at local, regional, and national events; a full-time researcher for private clients; and a genealogy educator for 20+ years. She is the founder and Past President of the Virtual Genealogical Association, past President of the Michigan Genealogical Council, past board member for the Association of Professional Genealogists, and a course coordinator and instructor at the Salt Lake Institute of Genealogy. Katherine authored The Genealogist's Guide to Grand Rapids, Michigan as well as the Genealogy on Facebook list, a catalog of 17,000+ genealogy/history links on Facebook, found at SocialMediaGenealogy.com.
 
---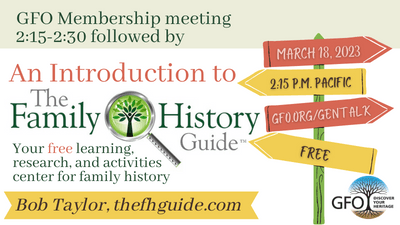 An Introduction to the Family History Guide
Mar. 18, 2023 @ 2:30 p.m. PT (online)

directly following the GFO Membership meeting at 2:15 p.m. PT (both using the same Zoom link below)
Click here to register and obtain a Zoom link to this live presentation.
Presenter: Bob Taylor
This talk will provide a walkthrough of the main features of the website, which is dedicated to making genealogists' research easier, more efficient, and more enjoyable.  
Bob Taylor has been actively doing family history for over 25 years. He has combined his passion for genealogy with his background in instructional design to produce an industry-leading learning resource for family history—The Family History Guide website. 
Bob Taylor earned his BA degree from Brigham Young University and MA degree from California State University, Los Angeles, both in Music Education. A career change led him to instructional design and technical writing, where he has worked for large technology corporations such as Intel and Western Digital. At Intel University, he redesigned key training courses for employees and managers worldwide, as well as teaching management courses in Washington, Arizona, Oregon, California, and Utah. He has authored many online and written learning systems, helping others accelerate learning in technology, music, and family history. 
Bob has been a featured presenter at RootsTech 2016, 2018, 2019, and 2020, and has presented at the Family History Library in Salt Lake City, Riverton FamilySearch Library, and the BYU Family History Conference. He has also presented to genealogical societies in California, Colorado, Florida, Kentucky, Maryland, Massachusetts, New York, Ohio, Oklahoma, Oregon, Texas, Utah, Washington, and Wisconsin. 
---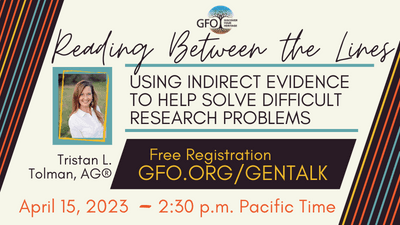 Reading Between the Lines: Using Indirect Evidence to Help Solve Difficult Research Problems
Apr. 15, 2023 @ 2:30 p.m. PT (online)
Click here to register and obtain a Zoom link to this live presentation.
Presenter: Tristan L. Tolman, AG® 
Learning to use indirect evidence can help you solve tough research problems and become a much better genealogist. In this presentation, Tristan will share case studies in which indirect evidence was the key to solving the case.
Tristan L. Tolman, AG® is a professional genealogist, author, editor, and publisher. She has a bachelor's degree in Family History and Genealogy from Brigham Young University and is accredited in the U.S. Mid-Atlantic States through the International Commission for the Accreditation of Professional Genealogists (ICAPGen). She loves working with clients and specializes in U.S. genealogical research, writing personal and family histories, and preparing genealogical information for publication. She currently serves as president of the Utah Genealogical Association, and she is the lead genealogist for the award-winning television series, Relative Race.
---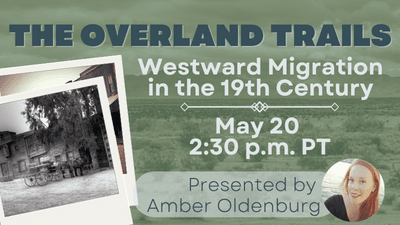 The Overland Trails: Westward Migration in the 19th Century
May. 20, 2023 @ 2:30 p.m. PT (online)
Click here to register and obtain a Zoom link to this live presentation.
Presenter: Amber Oldenburg
Your ancestors went west for many reasons: opportunity, land, and promise. Learn about the overland trails that many of them used to head west. This session will help you understand what your ancestors experienced along the way and how you can discover them in the records they left behind. what they experienced along the way and how you can discover your pioneer ancestors in the records they left behind.
Amber Oldenburg is a researcher and lecturer with a degree in family history research from BYU-Idaho, where she is currently an adjunct instructor. She is passionate about homesteaders and when she is not researching, she can be found traveling the country, exploring historical sites, or reading. She specializes in Midwest and Great Lakes states research.