GenTalks
---
Gen(ealogy)Talks are less formal, genealogy-related presentations that now take place online live several months per year, on the third Saturday at 2:30 p.m. (Pacific). GenTalks are FREE and open to the public, so, member or not, check out our Calendar page and come spend an hour or so with us!
Some handouts from previous GenTalks can be found here, for a limited time.
Upcoming GenTalks:
---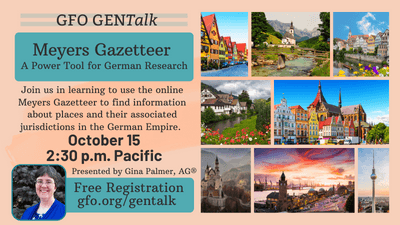 Meyers Gazetteer - a Power Tool for German Research
Oct. 15 @ 2:30 p.m. PT (online)
Click here to register and obtain a Zoom link to this live presentation.
Presenter:  Gina Palmer, AG®
Join us in learning how to use the online Meyers Gazetteer to find information about places and their associated jurisdictions in the German Empire. This tool can help you know where to look for records in your German research.
Gina Palmer is an American native of Germany, currently residing in Utah. She is a full-time professional genealogist with accreditation in the Germany South Region. She has conducted onsite research in various archives in Germany. As a young girl, she helped her mother read and translate old German church records, which instilled in her a love for family history. She earned a Bachelor's degree in Zoology and a Master's in Outdoor and Environmental Education. After working as an Interpretive Park Ranger for several seasons, she decided to pursue her interest in genealogy. She received an Associate's degree in Family History Research and recently completed an internship at the Family History Library working with a team of German Research Specialists. 
---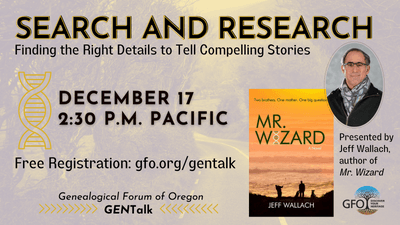 Search and Research: Finding the Right Details to Tell Compelling Stories
Dec. 17 @ 2:30 p.m. PT (online)
Click here to register and obtain a Zoom link to this live presentation.
Presenter:  Jeff Wallach
Mr. Wizard, Jeff Wallach's debut novel, follows Phillip and Spencer Elliot, two Jewish brothers on Long Island who learn via DNA testing that their supposed father is not who they thought. Jeff will deliver a talk about the research he conducted for his book as well as the differences between writing journalism and fiction. Wallach says, "My research isn't strictly genealogical research in the way your members would recognize, but research about DNA itself. Fiction works in the same way that this kind of research does; it seeks to tell us who we are, and that's really what we're after whether we pursue written historical records from our ancestors or DNA research, or even if we just love puzzles."
Jeff Wallach is the award-winning author of five non-fiction books as well as nearly 1,000 articles, essays, reviews, and columns in The New York Times, The Oregonian, Sports Illustrated, Men's Journal, GOLF Magazine, Men's Health, Health, Money Magazine, and many other national publications. He holds an MFA in Fiction Writing from Brown University. He currently lives, writes, hikes, fishes, golfs, plays soccer, and does the NYT crossword puzzle in Portland, Oregon.
---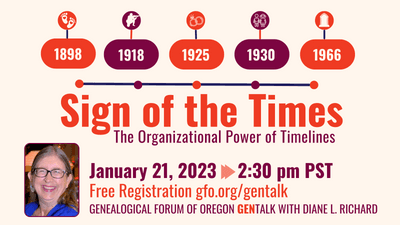 Sign of the Times - The Organizational Power of Timelines
Jan. 21, 2023 @ 2:30 p.m. PT (online)
Click here to register and obtain a Zoom link to this live presentation.
Presenter: Diane L. Richard
Hit a brick wall? Wondering why your ancestors did what they did? Need to separate several same-named contemporaries? Learn about timelines and how they might help you solve your puzzles. Creating a chronological multi-columned matrix can help you focus on missing gaps, clarify seemingly contradictory information, discover previously invisible relationships, and identify research paths to future discoveries. Color-coding, or other distinguishing methods, can also highlight locale or surname overlaps, related records, and more. They are not the timelines you learned to make in school; these visual representations present complex information in an easy-to-see format. They are as unique as each project you undertake. You will never regret creating this dynamic/living tool.
Diane L. Richard, MEng & MBA, Mosaic Research and Project Management (MosaicRPM), has been doing genealogy research since 1987 and since 2004 professionally focused on the records of North Carolina and southern states. She regularly contributes to Internet Genealogy. She has authored over 500 articles on genealogy topics. In 2019 she published Tracing Your Ancestors -- African American Research: A Practical Guide, via Moorshead Publications.  Since 2016 she has been the editor of the North Carolina Genealogical Society (NCGS) journal.
---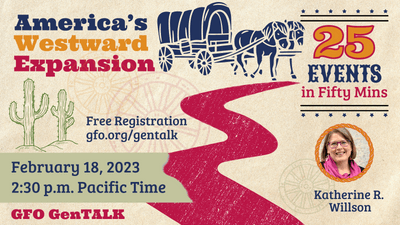 America's Westward Expansion: 25 Events in 50 Minutes
Feb. 18, 2023 @ 2:30 p.m. PT (online)
Click here to register and obtain a Zoom link to this live presentation.
Presenter: Katherine R. Willson
This presentation examines 25 U.S. Congressional acts and other major events that comprised westward migration between 1787 to 1890. Particular attention is paid to America's laws regarding territorial boundaries, stances on slavery, and wars against Mexico and Native Americans.
Katherine R. Willson of Dexter, Michigan, is an engaging and dynamic genealogy lecturer at local, regional, and national events; a full-time researcher for private clients; and a genealogy educator for 20+ years. She is the founder and Past President of the Virtual Genealogical Association, past President of the Michigan Genealogical Council, past board member for the Association of Professional Genealogists, and a course coordinator and instructor at the Salt Lake Institute of Genealogy. Katherine authored The Genealogist's Guide to Grand Rapids, Michigan as well as the Genealogy on Facebook list, a catalog of 17,000+ genealogy/history links on Facebook, found at SocialMediaGenealogy.com.