GenTalks
---
Gen(ealogy)Talks are less formal, genealogy-related presentations that now take place online live several months per year, on the third Saturday at 2:30 p.m. (Pacific). GenTalks are FREE and open to the public, so, member or not, check out our Calendar page and come spend an hour or so with us!
Upcoming GenTalks:
---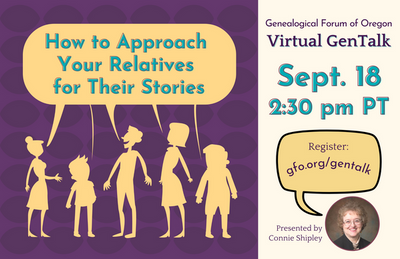 How to Approach Your Relatives for Their Stories
Sept. 18 @ 2:30 p.m. (online)
Presenter: Connie Shipley
Fellow GFO member Connie Shipley will share tips on how to ask your family members about their life stories. She learned these techniques while doing interviews with her clients over the years. Organization and connectivity are key. Learn some important homework to do before you actually start asking your questions and then how to ask them.

Connie Shipley is the co-chair of the Personal Historians NW organization, with members from British Columbia to Eugene, Oregon. She enjoys her second career as a personal historian and is now working on her largest project yet, about her great-grandfather Emil Schacht, an early Portland architect.
---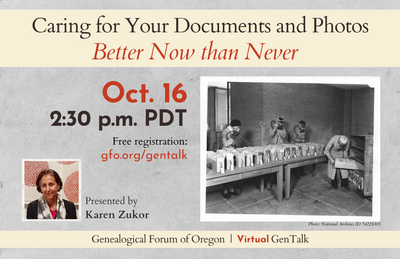 Caring for Your Documents and Photos: Better Now than Never
Oct. 16 @ 2:30 p.m. PDT (online)
Presenter: Karen Zukor
This presentation will show how to care for your important papers and what to avoid. Conservation is based on the study of what makes artifacts of all kinds age and deteriorate. Paper conservation relies on understanding paper chemistry and the media used to produce art and artifacts. By understanding the physical and chemical attributes of a wide range of papers, conservators can repair damaged items and extend the lives of those artifacts for future generations.
 
Karen Zukor has been a paper conservator in private practice for 40 years. Her work encompasses a full range of paper, from the 15th century to contemporary pieces. She has been responsible for many collections, including fine art, archival material, maps, historic currency, and rare books, in both private hands and institutions. Her studio is involved in both conservation and preservation; she and her staff not only repair damaged items but provide information on extending the life of an object. Karen has also trained conservation interns for more than twenty years. Zukor Art Conservation is in Oakland, California.
---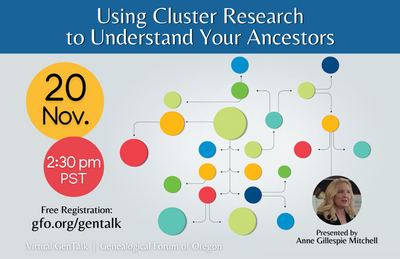 Using Cluster Research to Understand Your Ancestors: When a Tree Isn't Enough
Nov. 20 @ 2:30 p.m. PST (online)
Presenter: Anne Gillespie Mitchell
Everyone has brick walls in their genealogy research: People who appear to have dropped out of the sky.  Women whose maiden names seem to be unknowable.  Cluster research will give you new avenues to break down those brick walls by researching their family members, their neighbors, and anyone and everyone they were associated with.  Explore methods that will help you uncover new information about your family.

Anne Gillespie Mitchell has been chasing her ancestors up and down the Great Wagon road through Virginia, North Carolina, and South Carolina for many years.  She currently works for Ancestry on a variety of products including search, Ancestry Library Edition, AncestryK12, and now RootsWeb. She has completed the Boston University Online Genealogy Certificate course as well as multiple sessions at SLIG and IGHR. She has also taught genealogy courses at many national conferences, including NGS, FGS, RootsTech, and SLIG. Before Ancestry she worked in the Internet industry in software development and has been a product manager for several companies. She has a Master's degree in Computer Science from Purdue University, where she also taught Computer Science for eight years.
---
There is no GenTalk scheduled for December. See you next year!