What are GenTalks?
GenTalks are less formal, genealogy-related presentations that take place at the GFO library several months per year, generally on the third Saturday at 2 p.m. GenTalks are FREE and open to the public, so, member or not, check out our Calendar page and come spend an hour or so with us!
---
Upcoming GenTalks:
---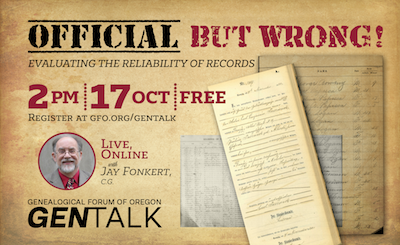 Official, but Wrong: Evaluating the Reliability of Records
October 17, 2 p.m. (online)
Presenter: Jay Fonkert, C.G.
Don't assume "official" government records are truthful. Learn how to seek corroborating evidence, evaluate conflicting evidence and examine motives of informants – in this case a single woman applying for a passport.
Jay Fonkert, C.G., is a Minnesota-based researcher and genealogy educator. His research and teaching articles have appeared in National Genealogical Society Quarterly, NGS Magazine, Family Chronicle, The Septs, and Minnesota Genealogist. He was an instructor in the Advanced Practicum course at the Salt Lake Institute for Genealogy (2013-2015), and has lectured at national and regional conferences throughout the U.S. When not researching his favorite English, Dutch or Midwest families, he keeps busy as a trustee of the Board for Certification of Genealogists Education Fund.
---
Genealogical Timelines & Research Checklists
November 21, 2 p.m. (online)
Presenter: Katherine R. Willson
Create a timeline with what you know, identify gaps, consult a genealogical research checklist for sources to fill those gaps, and record your queries on a correspondence research log. Discover the magic of methodology that may break down those brick walls. Samples of all forms provided.
Katherine R. Willson of Dexter, Michigan is a genealogy lecturer; an educator teaching beginning through advanced genealogy classes since 2001; the author of The Genealogist's Guide to Grand Rapids, Michigan; and a professional researcher for private clients. Her genealogy interests began as an 8-year-old Junior Girl Scout, and her passion was fueled when both her mother's and father's relatives gave her binders containing generations' worth of family information. Katherine's passion for genealogy, combined with practical and creative strategies, leave participants with the tools necessary to do their own research, as well as the inspiration to do it!
---
The handouts for some of our more recent GenTalks can be found on our Handouts page.