GenTalks
---
Gen(ealogy)Talks are less formal, genealogy-related presentations that now take place online live several months per year, on the third Saturday at 2:30 p.m. (Pacific). GenTalks are FREE and open to the public, so, member or not, check out our Calendar page and come spend an hour or so with us!
Some handouts from previous GenTalks can be found here, for a limited time.
Upcoming GenTalks:
---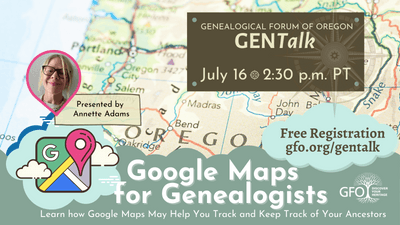 Google Maps for Genealogists
Jul. 16 @ 2:30 p.m. PT (online)
Click here to register and obtain a Zoom link to this live presentation.
Presenter:  Annette Adams
Annette Adams will show you how to track and keep track of your ancestors using Google Maps.
As a native German from Hamburg, Annette Adams takes immense interest in German genealogy, emigration, and consulting with others in discovering their German heritage.  Annette worked as a German research reference intern with the German Slavic Research Consultant team at the Salt Lake City Family History Library. Annette is currently working towards earning a BS in Professional Studies with an emphasis on family history and a social media marketing certificate. 
---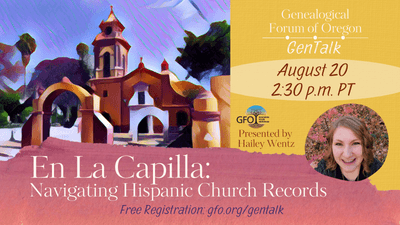 En La Capilla: Navigating Hispanic Church Records
Aug. 20 @ 2:30 p.m. PT (online)
Click here to register and obtain a Zoom link to this live presentation.
Presenter:  Hailley Wentz
Keywords and phrases in Spanish for reading church records will be taught. The key information that can be found in church records will be discussed. A case study will be presented to demonstrate the use of church records in Hispanic research. 
Hailey Wentz is an intern on the Latin American Research Specialist team at FamilySearch. A current student of family history and genealogy at Brigham Young University, she began her journey as a genealogist while studying linguistics. As a student of Spanish and Russian, her areas of emphasis in family history are Latin America and the former Russian empire, including what is now the Baltic States, Poland, and Ukraine. She is working on her accreditation in Peruvian research. When she is not poring over old documents in foreign languages, Hailey enjoys doing anything outdoors, reading a good book, and spending as much time as possible with family and friends.