GenTalks
---
Gen(ealogy)Talks are less formal, genealogy-related presentations that now take place online live several months per year, on the third Saturday at 2:30 p.m. (Pacific). GenTalks are FREE and open to the public, so, member or not, check out our Calendar page and come spend an hour or so with us!
Upcoming GenTalks:
---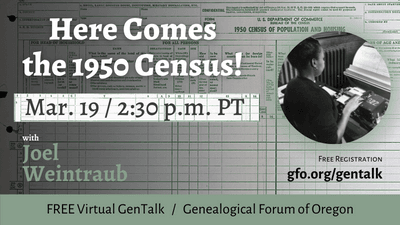 Here Comes The 1950 Census!
Mar. 19 @ 2:30 p.m. PST (online)
Presenter: Joel Weintraub
Prepare for the U.S. 1950 census becoming public on April 1, 2022. Learn what is a census, who uses the census, census caveats, how the 1950 census was taken, training of enumerators, enumerator instruction manuals, census sampling, 1950 population and housing forms, census questions, post enumeration codes, 1950 undercount, and a summary of the results. Also learn about Steve Morse's 1950 census locational tools, already online at the stevemorse.org website.
Joel Weintraub, a New Yorker by birth, is an emeritus professor at California State University, Fullerton. He became interested in genealogy over 20 years ago and volunteered for nine years at the National Archives in southern California. Joel helped produce location tools for the 1900 through 1950 federal censuses, and the New York State censuses for New York City (1905, 1915, 1925) for the Steve Morse "One-Step" website.
---
What Happens to Your Research after You're Gone?
Apr. 16 @ 2:30 p.m. PST (online)
Zoom link coming soon
Presenter: Patricia Burrow
You have spent many loving hours preserving and researching our ancestor's genealogy and life histories and would like to ensure that those histories are not lost or dispersed with time. Learn how to preserve and pass on your legacy.