GenTalks
---
Gen(ealogy)Talks are less formal, genealogy-related presentations that now take place online live several months per year, on the third Saturday at 2:30 p.m. (Pacific). GenTalks are FREE and open to the public, so, member or not, check out our Calendar page and come spend an hour or so with us!
Some handouts from previous GenTalks can be found here, for a limited time.
Upcoming GenTalks:
---
---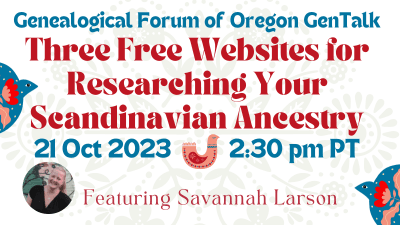 Three Free Websites for Researching Your Scandinavian Ancestry
Oct. 21, 2023 @ 2:30 p.m. PT (online)
Click here to register and obtain a Zoom link to this live presentation.
Presenter:  Savannah Larson
Do you have ancestors in Sweden, Norway, or Denmark? You're in luck! Each of these countries offers robust national archive websites with many tools to help the everyday genealogist. Come learn how to make the most of these websites and get other "cheat codes" to help you with your Scandinavian research.
Savannah Larson is a professional genealogist who specializes in Nordic research. She has research experience in the United States, Canada, and all of the Nordic countries. Savannah currently works as a Nordic specialist at the Family History Library in Salt Lake City, she also takes client work through her business, Yellow Ribbon Family History, and is on the board of the Utah Genealogical Association. Savannah's passions are connecting living family members, attempting to stay organized, and playing with her young children.
---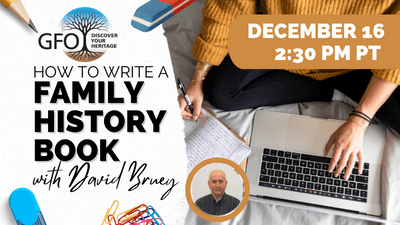 How to Write a Family History Book
Dec. 16, 2023 @ 2:30 p.m. PT (online)
Click here to register and obtain a Zoom link to this live presentation.
Presenter:  David Bruey
Family history books take many forms ranging from some stapled photocopied pages to thick hardcover volumes.  Some histories trace only one family surname while others trace all ancestral lines.  Some stop at listing the "begats" while others go deeper to tell stories of ancestors' lives.  There is not only one "correct" way to write a family history.  Each is a unique product of its author's creativity.  This class will present numerous options open to prospective writers.  It will use The Ancestry of Amelia Marilla Morley to illustrate the stages of writing and publishing from the book's original conception to its acceptance onto the shelves of major genealogical libraries. 
David Bruey is the author of The Ancestry of Amelia Marilla Morley and is working on his next two books.  He has taken twenty-nine genealogy courses thus far and presents programs for local genealogical societies. David holds a BA in English and an MA focused on cross-cultural communication.  He has taught English Language and Comparative Literature and has lived and worked abroad using French and a dialect of Arabic.  David is retired from his university career in international education administration and lives with his wife Nancy in Salem, Oregon. They have four children and six grandchildren.
---