GenTalks
---
Gen(ealogy)Talks are less formal, genealogy-related presentations that now take place online live several months per year, on the third Saturday at 2:30 p.m. (Pacific). GenTalks are FREE and open to the public, so, member or not, check out our Calendar page and come spend an hour or so with us!
Some handouts from previous GenTalks can be found here, for a limited time.
Upcoming GenTalks:
---
---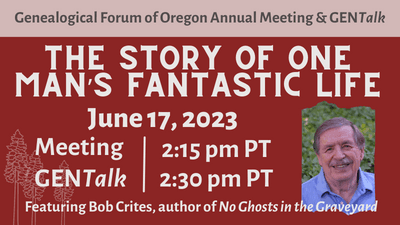 The Story of One Man's Fantastic Life
Jun. 17, 2023 @ 2:30 p.m. PT (online)

directly following the GFO Membership meeting at 2:15 p.m. PT (both using the same Zoom link below)
Click here to register and obtain a Zoom link to this live presentation.
Presenter: Bob Crites
A debut memoir of one man's childhood in the Pacific Northwest and his later diverse career.
Bob Crites, a retired guidance counselor, engagingly tells a story of his earliest years, starting from his home birth as one of triplets. His life, initially, was a rough one, filled with multiple parental remarriages and multiple moves to dwellings that were too small for his family; he also describes a period of houselessness and forest living in the summer of 1954. Yet this book is also about Crites' commitment to his education and Peace Corps service, and eventually "giving back" through work and philanthropy. Indeed, Crites' varied career over the decades included driving large vehicles, financial services, guidance counseling, and philanthropy. Highlights of his career included two years as an associate Peace Corps director in Guatemala, as well as arranging the American hosting of Mozambican Olympic track and field champion Maria Mutola and temporarily becoming her agent. The author also speaks of how his work in Latin America led him to a love of the culture of Brazil; his wife hails from that country. Overall, Crites presents readers an engaging narrative.
Bob Crites has earned numerous recognition and awards for his service and altruism. In 1964 he was a Peace Corps Volunteer in the Brazilian hinterlands of Mato Grosso, Brazil, when the country was taken in a military coup.  And in the late 70s, he was an Associate Peace Corps Director in Guatemala during a civil war. In the 1990s, he partnered with the "Second Mother Teresa'', one of the 20th century's most enlightened women, to enrich the education of impoverished students. In 1991 Bob was thrust into the role of agent for African teen Maria Mutola who went on to become an Olympic gold medalist, world record-holding track star voted along with cyclist Lance Armstrong as the two top sports competitors in the world. In 1998 Dr. Jane Goodall personally requested Bob to partner with the Jane Goodall Institute in awarding academic scholarships in Tanzania.
Now retired from a career as an educator and counselor, Bob is an avid backgammon player living with his Brazilian-born wife Dalva in Eugene, Oregon.  They love to travel and winter at their beachside condo in Recife, Brazil.
---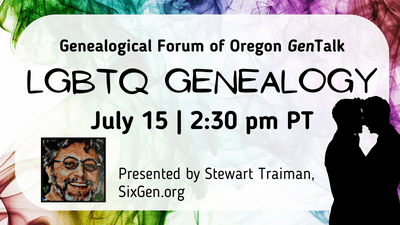 LGBTQ Genealogy
Jul. 15, 2023 @ 2:30 p.m. PT (online)
Click here to register and obtain a Zoom link to this live presentation.
Presenter: Stewart Traiman
This 1 hour and 15 minutes presentation focuses on clues in the genealogical records to find ancestors that may have been Lesbian, Gay, Bisexual, Transgender, or Queer. Clues to ancestors can be found in photographs, census, newspapers, obituaries, cemeteries, military records, marriage records, and LGBTQ Archives around the world. Stewart tells stories of many LGBTQ ancestors in the historical context of LGBTQ rights. The presentation is both factual and emotional in portraying LGBTQ people in the past centuries.
The second part of the presentation focuses on current genealogical software and the difficulty faced by LGBTQ and adoptive families. Sometimes the software just doesn't fit. Stewart makes recommendations on how software needs to evolve for today's families.
Stewart Traiman is a professional genealogist, a graduate of ProGen #49, and attends national conferences and annual institutes (GRIP, IGHR, SLIG). He is a public speaker and blogger. "LGBTQ Genealogy" and "Excel for Genealogists" are his most popular presentations. He has been a volunteer with the California Genealogical Society since 2014, serving six years on the Board of Directors, with five years as recording secretary. He published the monthly CGS eNews for eight years. He continues to volunteer with CGS on the Digital Historian Committee. For more information see SixGen.org.
---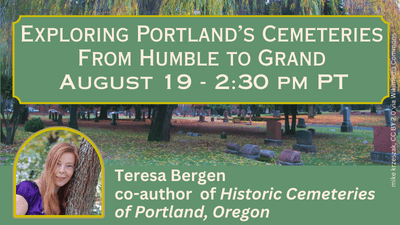 Exploring Portland's Cemeteries, From Humble to Grand
Aug. 19, 2023 @ 2:30 p.m. PT (online)
Click here to register and obtain a Zoom link to this live presentation.
No Handout
Presenter: Teresa Bergen
Teresa Bergen, co-author of Historic Cemeteries of Portland, Oregon, will talk about her favorite Portland cemeteries. She'll share stories of interesting markers and personalities she came across while researching the book. Teresa will show highlights from her extensive collection of cemetery photos, both historical and her own shots. She'll talk about why she loves to visit cemeteries and what she thinks others can learn from these repositories of art, history, tradition and culture—as well as bodies.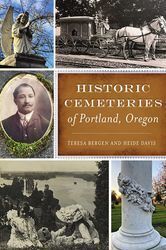 Teresa Bergen is a Portland, Oregon-based writer who also works in oral history. In addition to co-authoring Historic Cemeteries of Portland, Oregon, she is also the author of Easy Portland Outdoors and Transcribing Oral History. Her articles on travel appear in many consumer publications.
---
How to Write a Family History Book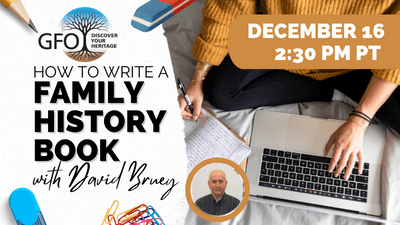 Dec. 16, 2023 @ 2:30 p.m. PT (online)
Click here to register and obtain a Zoom link to this live presentation.
Presenter:  David Bruey
Family history books take many forms ranging from some stapled photocopied pages to thick hardcover volumes.  Some histories trace only one family surname while others trace all ancestral lines.  Some stop at listing the "begats" while others go deeper to tell stories of ancestors' lives.  There is not only one "correct" way to write a family history.  Each is a unique product of its author's creativity.  This class will present numerous options open to prospective writers.  It will use The Ancestry of Amelia Marilla Morley to illustrate the stages of writing and publishing from the book's original conception to its acceptance onto the shelves of major genealogical libraries. 
David Bruey is the author of The Ancestry of Amelia Marilla Morley and is working on his next two books.  He has taken twenty-nine genealogy courses thus far and presents programs for local genealogical societies. David holds a BA in English and an MA focused on cross-cultural communication.  He has taught English Language and Comparative Literature and has lived and worked abroad using French and a dialect of Arabic.  David is retired from his university career in international education administration and lives with his wife Nancy in Salem, Oregon. They have four children and six grandchildren.
---