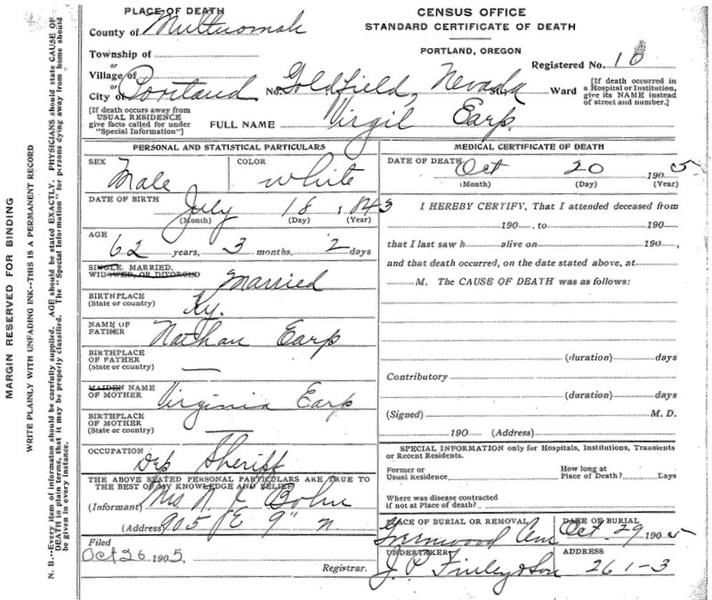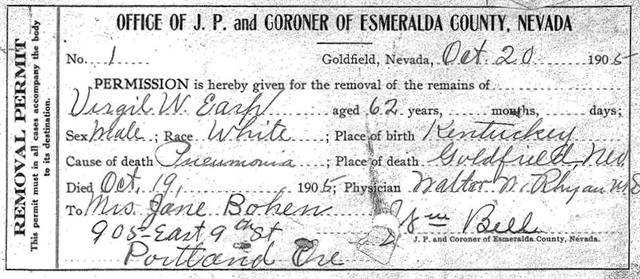 [Note: You don't get an obituary with the certificate(s)]
The Oregonian, 24 Oct 1905, page 10
Virgil W. Earp, one of the famous Earp brothers, of Western frontier fame, died at Goldfields, Nevada, on October 20, and his remains are now being brought to this city, where he will be buried from the residence of his daughter, Mrs. L. D. Bohn, of 905 East Ninth street North.
Virgil Earp, together with his brother, Wyatt, the referee, and "Bat" Masterson, formed a trio of adventuresome men who started out to establish law and order in the early days when shotguns and revolvers played important parts in Western civilization. He was Chief of Police of Tombstone, Ariz., when that locality was the have of many desperate characters, and soon rid the vicinity of all the so-called "bad men."
Earp had a varied career, and his life's history reads like a romance. The Oregonian of April 22, 1899, had the following on the noted frontiersman, which was occasioned by his visit to his wife and daughter:
"Virgil W. Earp, brother of Wyatt Earp of Sharkey-Fitzsimmons-fight fame, and a man with a record of his own, is in Portland enjoying a reunion with his first wife and his only daughter, neither of whom he has seen for 29 years. The wife is now the widow of the late Thomas Eaton, and Earp has another at Prescott, Ariz. The story of the separation is one of those romances which give color to the adage that truth once in a while is stranger than fiction.
"Earp was married to his first wife, then Ellen Sysdum[sic], at Oskaloosa, Ia., in February, 1860. He was then 17 years old and she was still younger. The parents of both young people strenuously opposed the match--the girl's parents because they did not want their daughter, who was a native of Holland, to marry into an American family; Earp's because he was too young. So the wedding was kept secret, the couple got only an occasional opportunity to see each other, and not till the birth of their daughter did they make their union known. Then there was trouble on both sides of the house, which, however, was soon stilled by the enlistment of Earp in the Civil War, when his child was two weeks old, and his immediate departure for the front.
"His young wife was left with her parents, who continually urged her to secure a divorce from her husband, and who finally took it upon themselves to declare the union at an end. Soon word was received that Earp was wounded, then that he was dead, and his wife had no reason to doubt either report. With her parents, she came West, bringing her child, and in 1867 she married Thomas Eaton at Walla Walla.
"In the meantime Earp returned to his home, found his wife gone, heard from friends that she had married again, and philosophically decided that the best thing he could do was to keep out of her way.
"This he did very successfully. He married again in 1873, came West and took an active part in the stirring times on the plains that have furnished unlimited inspiration for Old Sleuth and other chroniclers of cowboy days. He was the famous Chief of Police of Tombstone, at the time of the killing of "Doc" Holliday. His brother, Wyatt, "Bat" Masterson and other characters whose names have filled the flaring trumpet of fame, were there at that time and took a hand in what happened. Earp carried a lame arm, which was plugged full of lead, and can tell many reminiscences that affect the hair, like a stiff sea breeze.
"At this time Mrs. Eaton was busy rearing a family of five children, the eldest of whom was Earp's daughter, Janie, now Mrs. Levi Law. She came to Portland about 19 years ago, and for a long time has lived on North Front street, opposite the United States Engineers' mooring ground. Her husband, who was a well known wood dealer, died several years ago. After a while she heard that there was nothing in the story about Earp's death, but under the circumstances she was not especially eager to renew the acquaintance. Even when she found that he had been keeping himself informed in a general way of the welfare of herself and that of his daughter, there was no correspondence. Earp, having the second Mrs. Earp to care for, made no effort to restore the first wife to his fireside. Had circumstances been such that his was entirely agreeable, he was not at all sure that she still cared for him.
"The present reunion was brought about by the recent illness of Earp's daughter, Mrs. Law, who had learned the story of her father and discovered that his present residence was at Prescott, Ariz. She had been corresponding with him since September, and expected to make him a visit last Winter, but a sudden attack of pneumonia changed her plans, and instead her father hastened to her fireside."
The remains are expected here Wednesday and the funeral will probably be held on Thursday.