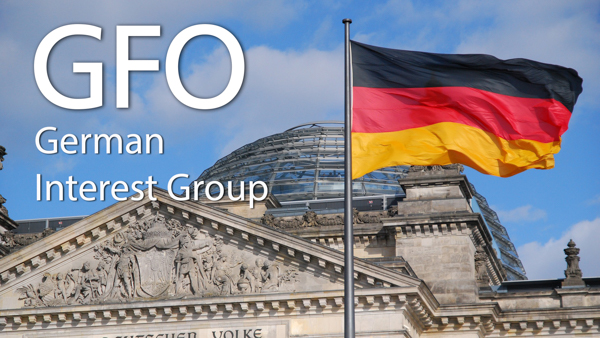 German Special Interest Group
The German Interest Group was formed in the spring of 2011. It is intended to be a source of information and inspiration for anyone with German-speaking ancestors. One goal is to provide information on a variety of topics related to Germanic history and migration. We also will provide time for members to share their research journeys and connect with others who may be researching the same region or time period.
The German group has two facilitators, Mike Fernandez and Tia Cobb. The group will meet the first Saturday of the month from 1 to 3 p.m. Please check the GFO calendar for updates and more information.
If you would like more information about this group or have questions, please contact the Facilitator.
---
Notes from 7 October 2017
Deutschunterricht / German lesson:
1. the archive system (lit. archiving system) das Archivierungssystem
2. the floor, ground, bottom, soil, base, land der Boden the floor, level, story, tier  der Stock
3. The indefinite article "a/an" have 12 forms which agree with the singular noun: masculine, feminine, and neuter + four cases, but uses only six words: ein, eine, einen, einem, eines, einer. Ein literally means "one". eg. I have an archive system. Ich habe ein Archivierungssystem.
4. The negative form "not a" kein is declined like ein. I do not have an archive system. Ich habe kein Archivierungssystem.
Best thanks! Besten Dank! Carol for your presentation of an exciting, wonderful, and worthwhile German genealogy trip to your three ancestral villages in the state of Lower Saxony (High Ger.: Niedersachsen; Low Ger.: Neddersassen). What a fantastic experience to be standing in front of an ancestral home turned into the city's library, and have a 4th cousin walk up and great you! Finding a distant cousin was "the icy on the cake" / " das Tüpfelchen auf dem i ". 
 (a) Niedersachsen genealogy: genealogylinks.net/europe/germany/ni.htm
 (b) Lower Saxony Societies: familysearch.org/wiki/en/Lower_Saxony_Societies
At the December's meeting, Judith will be talking her genealogy trip which was a similar German trip that Carol and Nancy took but to a different area.
Notes / Aufzeichnungen:
A. A mini-Oktoberfest with a backdrop of German music and tables with German sample foods greeted the members last Saturday / Samstag!
B. Carol Linneman talked about her trip: 
1. visited towns, museums, met family; saw ancestral home and farm, walked the same streets, visited the same churches, sat at the same table that her ancestors frequent; met new friends, and enjoyed the German food.
2. Best tip from Tom, was to contact someone, which Carol did and met as well. The reunion was so great, that Carol's planning another trip to see more villages, more research, and an invitation to stay with her new friend.
3. Carol met the mayor of Quernheim who presented her with a book of the town...with a picture of her ancestor. She was also interviewed by the local newspaper and show us the German/English article.
C. We viewed a copy of each of the three book series the GFO German Group purchased and all books are paid for. 
More notes
A. German given name: Vorname (lit. in front surname) (pl.) Vornamen
1. Old High German Althochdeutsch (700-1050) names:
 (a) Albrecht (Albright), Die(d)trick, Gunther, Hagen, Hildbrandt, Hillenbrand, Oswald, Siegfied (Seyfried)
2. Starting in the Middle Ages (ca 960s) German children were given two names. 
 (a) Baptized name came first.
 (b) A family could have several "Johann" or "Maria" children:
eg.     Johann Hans Fischer          Maria Elizabeth Fischer
          Johann Friedrich Fischer    Maria Anna Fischer
3. The second name Rufname is found on records and person is called by. eg. Hans Fischer,  Anna Fischer
 (a) The Rufname and the surname Familienname were used on marriage, tax, land, and death records.
4. By the 19th century, more families gave children three names, very common in northern Germany. (A clue of where an ancestor might have originated.)
 (a) Only one of the middle names Rufnamen was used throughout the person's life.
 (b) Catholic katholisch usually named their children with saints' names: Lukas, Mathias, Matthaeus, Paulus, Ruprecht, Nickolasu...
 (c) Protestant evangelische included names from the Old Testament or even non-Christian mythology.
  (1c) My 3G grandmother: Wilhelmina Paulina Carolina Thiessenhusen was born in WI by parents Johann Karl Heinrich Thiessenhusen and Johanna Christina Charlotte Pamperin (-in for female, father was Pamper) immigrated from Mecklenburg-Schwerin (northern Germany). As well as those from Pommern, Kingdom of Prussia: Franz Wilhelm Edward Schöneck. All my ancestors from the Frankfurt a/M area had just three names: Herman Fredrick Töpfer, Eva Catharina Weidner -Mike
5. Nickname Spitzname (pl.) Spitznamen
 (a) some drop the first part or last part of the name
Dietrich > Dieter                                 Johann, Johannes > Hans
Friedrich > Fritz                                  Heinrich > Heinz
Wilhelm > Willy                                  Josef > Sepp
Nicklaus > Klaus                                Sebastian > Bastian     
Christina > Stin(a)                              Katharina > Trin(a)
Anna, Ann > Nancy, Nan                   Margaretha > Gretl, Greta
Dorothea > Dora                               Carolina > Dora
Magdalena > Lena, Helena, Molly    Johanna > Hanna
My 3GG Wilhelmina > (anglicized) Minnie
 (b) Old High German: Konrad > Kunz     Heinrich > Hinz
 (c) These Spitznamen are used in church and other records.
 (d) Today, Vornamen must be officially approved by the local office of vital statistics (Standesamt). It does not apply to non-German families, eg. (z.B.) Turkish families use Turkish given name or German name. 
6. Naming patterns: 
 (a) In German-speaking areas, children were almost always named for one or more of their baptismal sponsors, who might or might not be related to the child.
 (b) three common patterns: see attachment
 (c) Given names Vornamen for children who died young were reused by the family for children born after the deaths.
  (1c) In some documents, families used the same name for two children who both survived.
  (2c) If a man immigrated and left his children back, then remarried, he might use the same name pattern. Hence, children have the same name by the same father.
B. Fall is here. / Der Herbst is da. One of our delicious fall squash luncheon was on a co-op farm, south of Berlin. We took down the tomato plants that were attached to hanging robes and stacked shelves of pumpkins in the basement. Meanwhile, one of the young men made a squash dish. Here are some fall German pumpkin and squash recipes(-Mike): germanfoods.org/recipes/recipe-collections-pumpkin-and-squash-recipes/
the fall der Herbst       the spring der Frühling
the winter der Winter   the summer der Summer
Mike and Tia