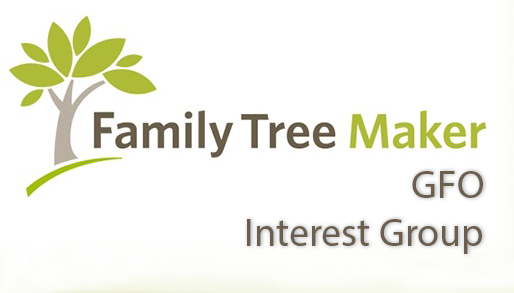 Family Tree Maker User Group
Family Tree Maker Special Interest Group
Whether you are considering a move to Family Tree Maker, just starting to use it, or have been using it for years, you will find value in two special interest groups focused on Family Tree Maker genealogy software.
The Family Tree Maker Users Group  meets on the 3rd Sunday of February, March, May, June, August, September, November, and December (dependent on holiday) from 1 - 3 p.m. Join leader Joyce Grant-Worley and other users who want to work through the 2017 Companion Guide to Family TreeMaker. .Bring your laptop. Come 30 minutes earlier if you've never been or have skipped sessions. You might need an update of the "fake" practice tree we are using.
The Family Tree Maker Beginners Group meets quarterly in January, April, July & October, 1 - 3 p.m., at the back of the GFO Library. These sessions are facilitated by Laurel Smith. Check the GFO Calendar for meeting information.
Questions? Or if you have Family Tree Maker topics you'd like covered, email Joyce and Laurel at FTM@gfo.org.
This special interest group, like all the others that meet at the GFO, is free and open to the general public.