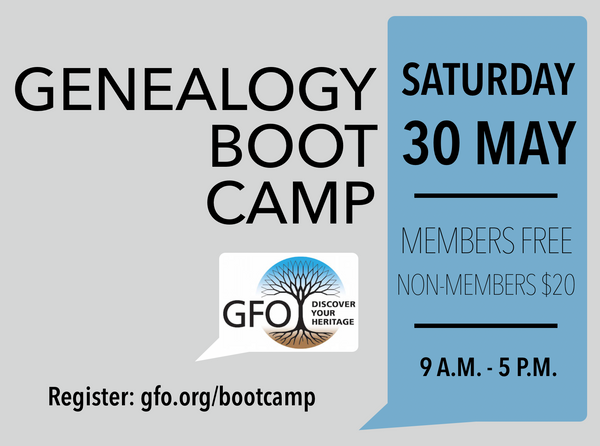 ---
Genealogy Boot Camp for Beginners May 30
Join Laurel Smith at the GFO for a day of beginning genealogy. There will be sessions about the census, vital records, discussions about genealogy software and database use, organizing your research, using Ancestry.com, and more — all geared toward beginners — but basic computer skills are a prerequisite.
All communications are done via email, and you must be able to download and print the class notes. Bring a sack lunch, snacks, and a beverage so you can keep going as the class does.
GFO members may attend for free, non-members $20.
Here's what attendees are saying: "Boot Camp was rocking, wow do I regret not having it before I started my work . . . such a good teacher . . . a marathon that was time well-spent . . . informative and motivational . . . with humor and positive energy . . . more than exceeded my expectations."
Member or not, please let us know if you plan to attend and REGISTER ONLINE. Registration closes on May 27, 2020. Two very short assignments will be emailed, the first on the 28th. You will receive an email with a link to the class notes when you complete the two assignments.
Contact Information
Laurel Smith
503-963-1932
---