Hours
The GFO Library is open
Sunday:  1:00 p.m. - 5:00 p.m. *
Monday:  9:30 a.m. - 5:00 p.m. *
Tuesday:  9:30 a.m. - 5:00 p.m. *
Thursday:  1:00 p.m. - 5:00 p.m. *
Friday: 1:00 p.m. - 5:00 p.m. *

Volunteers must remember that masks are required in the library on Saturdays even though we are closed to the public.
* Sunday thru Friday, masks are optional.
Please read this before coming to the GFO.
As always, our website, special interest groups, and classes remain online so we may continue service to our members and visitors.
Location
GFO Library (within the Ford Building)
2505 S.E. 11th Ave., Suite B-18
Portland, OR 97202-1061 
— We're in the basement!
GFO Phone: 503-963-1932
Use a Google map to get directions.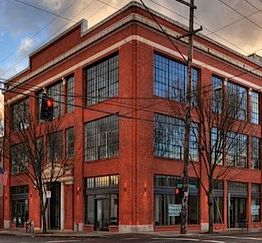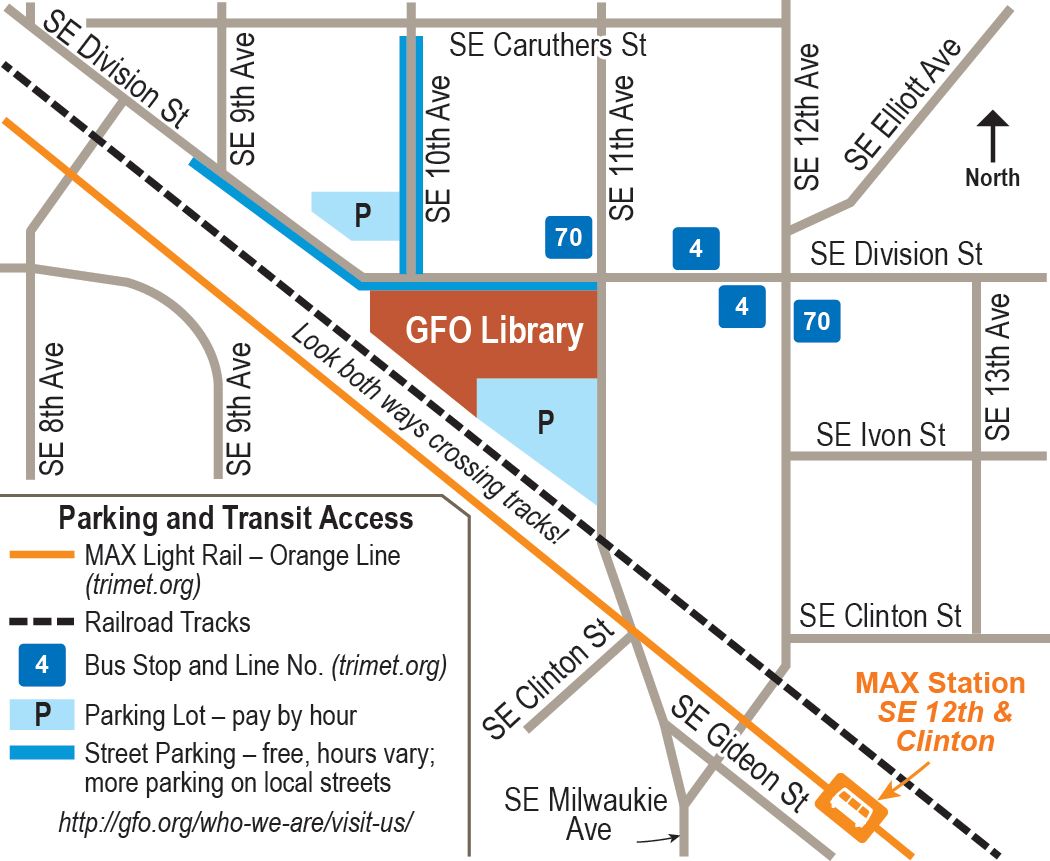 Parking Lots
All parking lots around the building are pay to park.  Reef Parking now manages the lots behind the GFO Library (Ford Building Lot #369) and on 10th Street across from the GFO Library (Ford Building Lot #368). 
Reef Parking no longer accepts cash or credit card onsite, you must pay for parking via the Reef Parking mobile app.  It is recommended you download the Reef Parking app and supply a payment method prior to your visit to the GFO.  Rates start at $1.50 for both lots nearest the GFO.
The Reef Parking app can be obtained from both the Apple App Store and Google Play Store.
Street Parking
Street parking directly adjacent to the building has various restrictions, so be sure to read the signs! Most side streets south and west of our location also have time restrictions. Side streets east of S.E. 11th and north of Division (including S.E. 12th) have few if any restrictions. Parking can typically be found there within three to four blocks of the GFO.
Disabled Parking
The lot behind the Ford building has one designated ADA spot. It has a two-hour limit and is also pay to park. Portland has specific rules addressing parking on the street. They are copied below.
Time Zone Parking Privileges in Portland: No Time Limit at over 30 minutes. Observe the time limit in zones 30 minutes or less.
Parking Prohibited: Disabled person plates or permits do not allow parking privileges except as described above. Disabled person plates or permits do not extend time limits in areas designated for special use and do not allow vehicle storage over 24 hours on the public right-of-way.
Limitations - Parking privileges for all types of disabled person parking permits do not apply to a zone where:
Parking is permitted for only 30 minutes or less.
Stopping, parking, or standing of all vehicles is prohibited.
Late evening or overnight parking is prohibited.
Parking is reserved for special types of vehicles or activities.