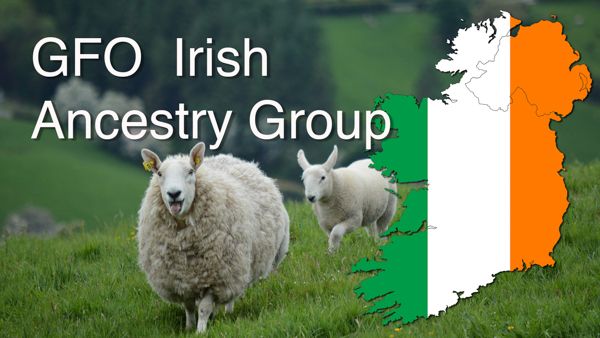 Irish Special Interest Group
This group meets online.
Anyone with an interest in Irish genealogy is welcome to join us.
The Irish Interest Group meets on the 3rd Wednesday of the even months February, April, June, August, and October (there will be no meeting in December) from 6 to 8 p.m. (Pacific Time).
All meetings are free and open to the public.
Focus: Although all of the island of Ireland is included, our primary focus is the genealogical research of the Republic of Ireland, also known as the Irish Free State, Éire, Ireland, and Southern Ireland. Members of the GFO as well as their guests and any interested members of the public are welcomed to attend the Irish Genealogy SIG. One hour of each two-hour meeting will be spent on presentations about Irish history, genealogy, and resources while the second hour will focus on Irish Brick Wall questions.
Moderator/Leader - Karen Hubbard
Program Chair - Erinn Sears
Recording Secretary - vacant
Corresponding Secretary - Marilyn Fay
Treasurer - Peg Kenaga
You may contact the group leaders at Irish@gfo.org.
Please refer to the GFO Calendar for the most current meeting information.
Useful Websites for Irish Research: click here.
Our member Surname and County list: click here.