Registration is now open!
---
This is a three-day, live and online event. Registration for one, two, three or all four speakers is
online only.
The Zoom link for the event will be emailed to you about one week prior to the event, along with the handouts. All handouts are electronic and are included with your registration.
All sessions will be recorded and videos available to registrants through May 2.
Please click here to get our flyer and share it with your friends.
Contact Information
---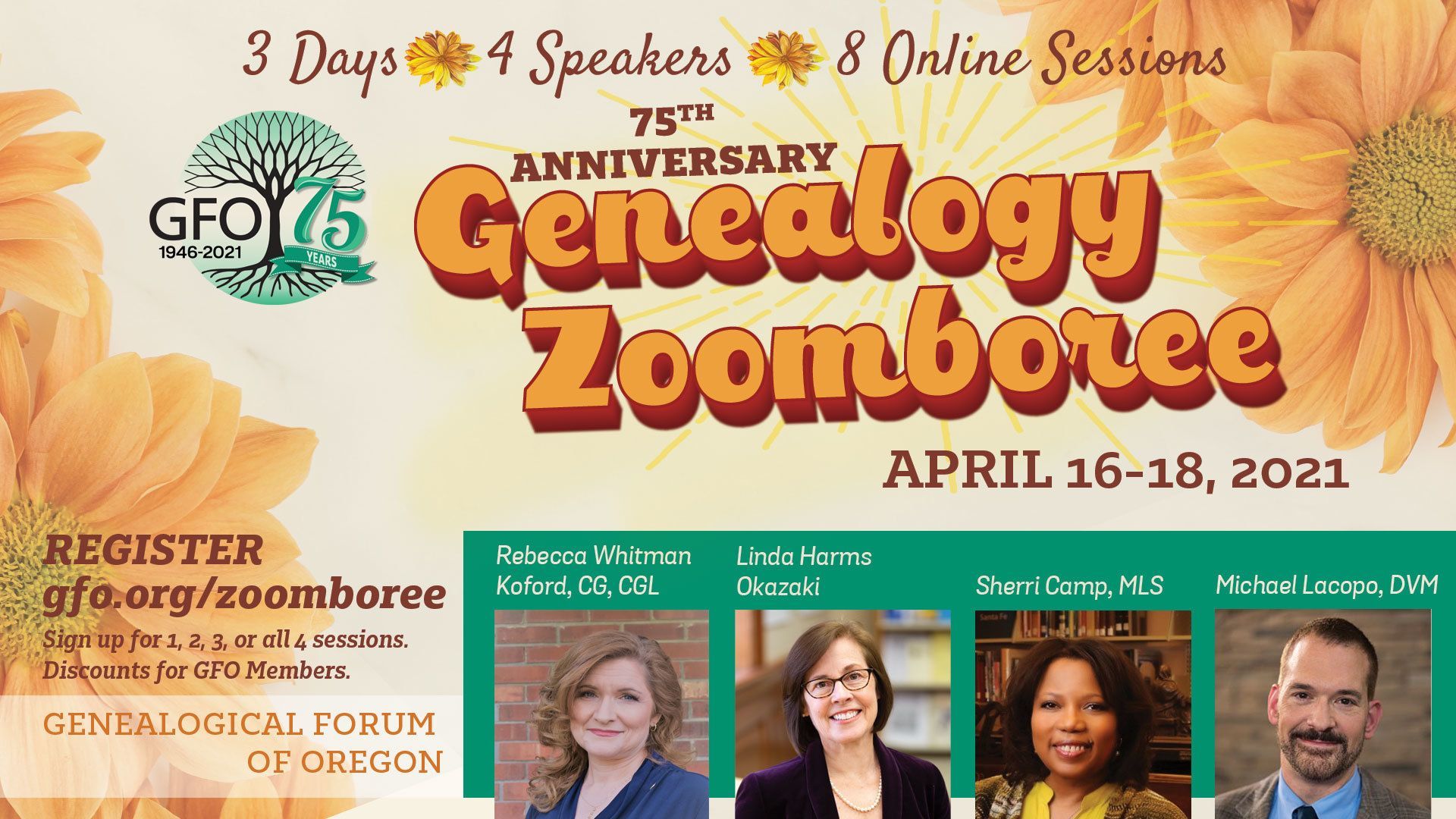 Fri., Apr. 16: 1 - 3:30 p.m.

Rebecca Whitman Koford, CG, CGL
Executive Director, Board for Certification of Genealogists
➣ Courthouse Research & Indexes
➣ Land Records: Rich Sources for Your Research

Sat., Apr. 17: 9 - 11:30 a.m.

Linda Harms Okazaki
Charter Member, Nikkei Genealogical Society
➣ Introduction to Japanese American Research
➣ WWII Internment Camps: Japanese, Germans & Italians

Sat., Apr. 17: 1 - 3:30 p.m.

Sherri Camp, MLS
Past President, Afro-American Historical & Genealogical Society
➣ African American Research Strategies
➣ A Treasure Trove of Free Websites

Sun., Apr. 18: 1 - 3:30 p.m.

Michael Lacopo, DVM
Professional Genealogist
➣ Medical Genealogy: A primer of diseases that killed our ancestors and the epidemics they lived through
➣ "I am poor, obscure, plain, and little." - Researching Invisible Ancestors