Registration is now open!
---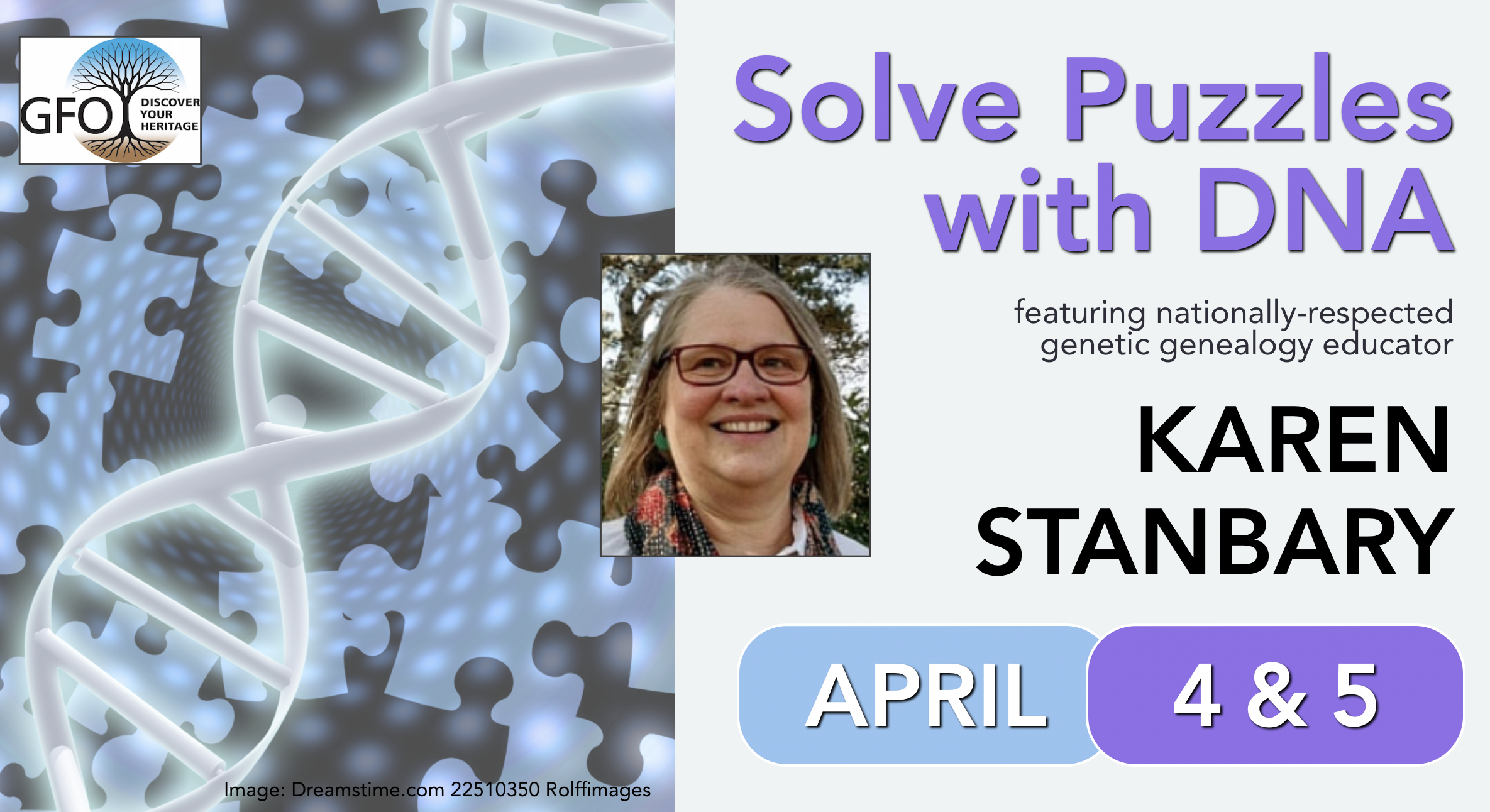 ---
Spring Seminar: Solve Puzzles with DNA with Karen Stanbary
This is a two-day event. Register for one day or for both days. You can register and pay online, or download the flyer/registration form from the link below and send in payment. Note: Your registration is not complete until we receive payment. If the workshop is sold out before we receive your payment, you will be put on a waiting list. Paper copies of the syllabus are no longer available for advance purchase, but will be available for $3 cash at the door.
About the Speaker
Karen Stanbary, MS, LCSW, CG is an author and national lecturer focusing on topics related to using genetic evidence correlated with documentary evidence to solve genealogical brick walls. A Chicago local, she holds a Master's Degree in Clinical Social Work from the University of Chicago and has completed advanced graduate study in Social Anthropology at the Colegio de Michoacán, Mexico. Her genealogical practice specializes in Midwestern U.S., Chicago, and Mexican research as well as complex problem-solving, unknown parentage, and DNA analysis.
She is a course coordinator and faculty member at three national genealogical institutes: GRIP (Chromosome Mapping), IGHR (Intermediate DNA), and SLIG (Meeting Standards Using DNA Evidence).
Karen received the NGSQ Award for Excellence for her complex evidence case study incorporating traditional documentary research and autosomal DNA analysis in the June 2016 issue of the National Genealogical Society Quarterly. Most recently, she published "Drowning in DNA? The Genealogical Proof Standard Tosses a Lifeline" in Debbie Parker Wayne's book Advanced Genetic Genealogy: Techniques and Case Studies. She holds the credential Certified Genealogist from the Board for Certification of Genealogists where she serves as a Trustee and is chair of the standing DNA Committee.
Saturday Full-Day Seminar:
Saturday, April 4
Center for Self Enhancement (SEI)
3920 N. Kerby Ave.
Portland, Oregon
10 a.m. to 4:30 p.m.
Saturday Lunch: Bring your own lunch or order from GG's Deli. A lunch selection form will be sent with your confirmation. Lunches must be ordered by noon on Apr. 1. Lunch break 12:30 - 1:30 p.m.
Saturday Seminar Features: Books for sale from Heritage Quest; raffle; coffee, tea, and snacks provided
Syllabus: electronic copy included for both days
Saturday Classes
Experienced beginners and higher will learn how to manage and interpret DNA evidence, then incorporate it into existing documentary research. Receive tips from a retired Licensed Clinical Social Worker on managing conversations about unexpected DNA results.
Sunday Half-Day Seminar:
Sunday, April 5
Genealogical Forum of Oregon
2505 SE 11th Avenue #B-18
Portland, Oregon
9:30 a.m. - noon
Sunday Classes
More complex puzzles require more complex DNA evidence analysis. Deepen and expand your intermediate- to advanced-level skills.