Thank you for coming to Portland, Tony!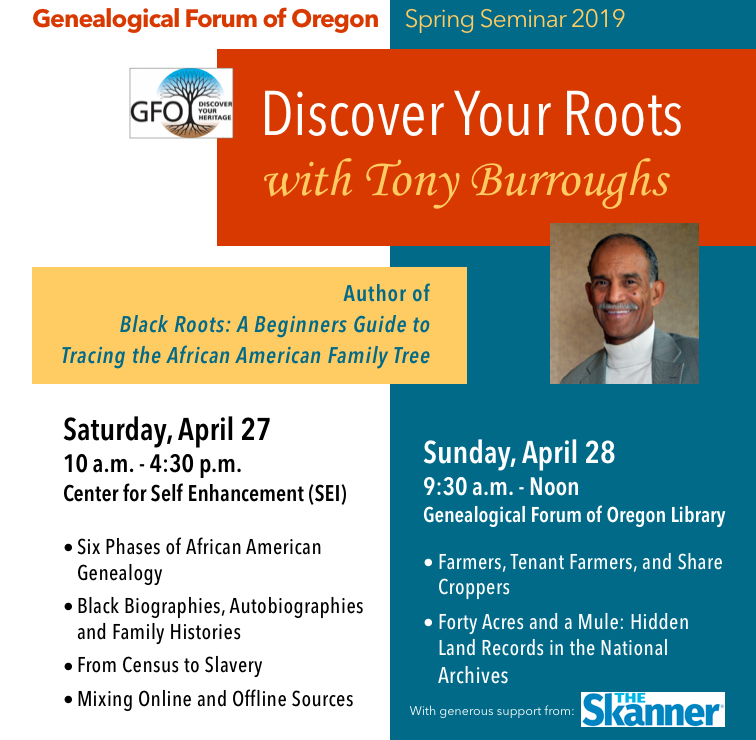 ---
Spring Seminar with Tony Burroughs
This form stopped accepting submissions on April 26, 2019 12:00 pm PDT.
This is a two-day event. Register for one day or for both days. You can register and pay online, or download the registration form and send in payment. Note: Your registration is not complete until we receive payment. If the workshop is sold out before we receive your payment, you will be put on a waiting list.
Saturday Full-Day Seminar:
Center for Self Enhancement (SEI)
3920 N. Kerby Avenue
Portland, Oregon
Saturday, April 27
10 a.m. to 4:30 p.m.
Link to venue location
Saturday Lunch: Bring your own lunch or order from GG's Deli. A lunch selection form will be sent with your confirmation. Lunches must be ordered by noon on April 24. Lunch break 12:30 - 1:30 p.m.
Saturday Seminar Features: Books for sale from Heritage Quest and the GFO; Raffle; Coffee, tea, and snacks provided
Syllabus: electronic copy included for both days
Saturday Class Descriptions
The Six Phases of African American Genealogy: This is an overview of the methods and sources in the six distinct phases that are the building blocks of African American genealogy. It progresses from beginning to more advanced research, highlighting some of the problems and complexities of African American genealogy along the way. It is designed for beginners, intermediates and advanced researchers.
Black Biographies, Autobiographies and Family Histories: The growth in African Americans researching family history has led to a corresponding growth in published materials. Advances in technology has also led to the awareness and availability of older works that were previously difficult to locate. This presentation will explore the richness of these treasures.
From Census to Slavery: Most African American researchers try to leap from census records to slave research, bypassing a multitude of records in between. A broad foundation between now and the Civil War will increase the probabilities of success during the slavery period.
Mixing Online & Offline Resources: In spite of the billions of records online, not all records are on the web. Integrating online sources with physical resources doubles your chances of genealogical success. After discovering an ancestor found in a photo collection, see how rich offline resources compliment resources found on the web.
Sunday Half-Day Seminar:
Genealogical Forum of Oregon
2505 SE 11th Avenue #B-18
Portland, Oregon
9:30 a.m. - noon
Link to venue location
Sunday Class Descriptions
Farmers, Tenant Farmers, and Share Croppers: Many of our ancestors were farmers, or worked on farms. But have we considered what farmers do, how they do it, and what unique farm records exist?
Forty Acres and A Mule: Hidden Land Records in the National Archives: Circumstances of the Civil War created a wealth of land records for Southerners and African Americans that are overlooked in the National Archives. See why these records were created, what they contain, and learn how to access them.
---