Register now!
---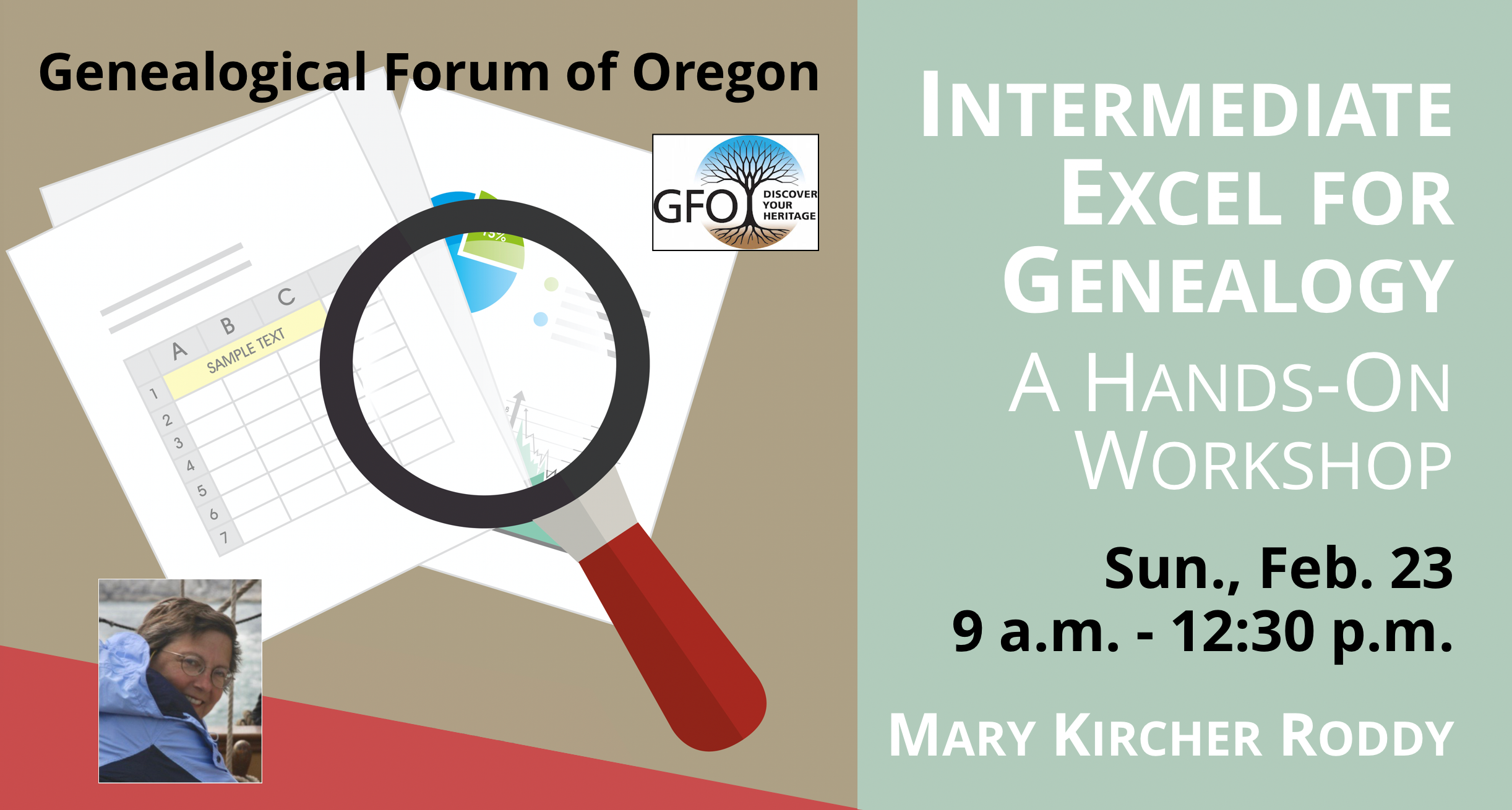 ---
Intermediate Excel for Genealogy
You can register and pay online, or download the flyer/registration form from the link below and send in payment. Note: Your registration is not complete until we receive payment. If the event is sold out before we receive your payment, you will be put on a waiting list.
Spreadsheets 201/301: An Intermediate Excel Workshop Tutorial
Spreadsheets can be a powerful tool to help you in analyzing your genealogical data and keeping track of your research; and they are
essential
in managing your DNA information. During this 3-hour workshop, experienced spreadsheet users will learn more tricks to utilize spreadsheets in genealogy. You will work on stepping up your game by incorporating color in worksheets, splitting columns, wrapping text, freezing panes, sorting, filtering, and more. We will discuss work-arounds for date issues in Excel, and we'll cover importing data from websites including
Ancestry.com, FamilySearch.org
and other sites. You will follow along with several examples of how to use Excel to gain perspective and further your genealogy research. Participants should bring their (fully charged) laptops pre-loaded with Excel.
Mary Kircher Roddy, CG®
Mary earned a Master in Professional Accounting from the University of Texas, a certificate in Genealogy and Family History at the University of Washington, and was credentialed by the Board for Certification of Genealogists® in 2019, Certificate No. 1113.
Mary frequently lectures around the Seattle area, as well occasionally farther afield, and is an active member of Seattle Genealogical Society, the Genealogical Speakers Guild, the Association of Professional Genealogists, and the National Genealogical Society. She has published articles in Family Chronicle, Internet Genealogy, and the National Genealogical Society Quarterly.
---