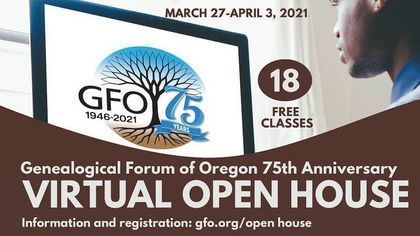 2021 Virtual Open House: March 27-April 3
Our 75th Anniversary Genealogy Open House moves online this year.
Join us for 18 free classes from March 27 through April 3.
Many of the GFO's special ancestry groups will be featured.
Sunday, March 28: Irish Day
Monday, March 29: Online Sources Day
Tuesday, March 30: DNA Day
All classes require advance registration. There is no cost. Please invite your friends to see how the GFO can help you in your family history sleuthing.
Each class has its own registration link on our calendar.
---