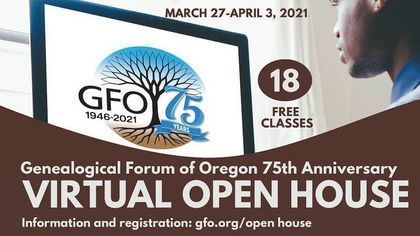 2021 Virtual Open House: March 27-April 3
Our 75th Anniversary Genealogy Open House moves online this year.
Join us for 18 free classes from March 27 through April 3.
Many of the GFO's special interest groups will be featured.
Sunday, March 28: Irish Day
Monday, March 29: Online Sources Day
Tuesday, March 30: DNA Day
Each class requires its own advance registration. Please invite your friends to see how the GFO can help you in your family history sleuthing.
Each class has its own registration link below. Class registration may also be done via our Google activities calendar. After completing each registration, you will receive an email with the corresponding Zoom meeting link for that individual class.
Please keep these emails handy because you'll need them in order to join the presentation.
Please note that all class times are Pacific Time.
We look forward to seeing you!
Please click here to get our flyer and share it with your friends.
---
Saturday March 27, 2021
10:00am to 12:00pm
Genealogy Problem Solvers SIG
GPS is a monthly support group where we help each other find information about a family line. We will learn to do a reasonably exhaustive search and develop research plans. Like all Special Interest Groups at the GFO, Genealogy Problem Solvers is open to everyone, member or not.
Register Here
1:00pm to 3:00pm
British SIG: Intro to UK Research
Group leader Duane Funk will show attendess the basics of genealogical research in the UK.
Register Here
---
Sunday March 28, 2021 - Irish Day
1:00pm to 2:30pm
Irish Surnames
Ireland has one of the oldest surname traditions beginning in 900 AD. Karen Hubbard will explore surname history, geographic location, resources and how to track down your Irish family surname.
Register Here
3:00pm to 4:30pm
Searching for 2nd-Great-Grandfather John Spillan
Searching for my Irish Great Great Grandfather John Spillan...a journey of discovery with Patricia Delich. Learn how an actual search proceeded from first clues to finding resources and the resulting story that came together! The handout for this presentation is available here.
Register Here
---
Monday March 29, 2021 - Online Sources Day
10:00am to 11:00am
Finding Records on FamilySearch
Laurel Smith will teach you how to find what you're looking for in the largest genealogy database in the world, FamilySearch.
Register Here
1:00pm to 2:00pm
Finding Records on Ancestry
Laurel Smith introduces you to the amazing number of records accessible on Ancestry.com.
Register Here
3:00pm to 4:00pm
Family Trees and Authored Sources
Laurel Smith will show you how to make the best use of family trees you find online and other authored sources.
Register Here
---
Tuesday March 30, 2021 - DNA Day
10:00am to 11:30am
Compare DNA Companies with Tim Janzen
This presentation by Tim Janzen will introduce you to the 5 major companies that offer autosomal DNA testing for genealogical purposes: 23andMe, Ancestry.com, FamilyTreeDNA, MyHeritage, and Living DNA. Tim will summarize the primary features, pros, and cons of each company's autosomal test and will explain how they can be used for genealogical purposes.
Register Here
1:00pm to 2:30pm
Finding Common Ancestors - Y-DNA, mtDNA, and atDNA with Emily D. Aulicino
A major goal of DNA testing is to find the common ancestors you share with your matches and exchange information, photos, and stories. Along with having a quality and robust pedigree, understanding which matches to contact and knowing how to best communicate with your matches can be the key to getting a response.
Register Here
3:00pm to 4:30pm
An Introduction to GEDmatch with Lisa McCullough
GEDmatch is a third-party site that offers a wide variety of autosomal DNA analysis tools. This website allows DNA test results from various DNA testing companies to be compared to test results from other DNA companies. This presentation is a tour of the website's basic features.
Register Here
---
Wednesday March 31, 2021
10:00am to 12:00pm
Great Lakes Region Ancestry
For this Open House meeting there will also be a review of a Great Lakes Region definition (which states), area resources, and topics covered by the Great Lakes Ancestry Group so far.
Register Here
1:00pm to 2:00pm
The Q Review
Come join a special session of The Q Review, our "book club" of sorts that reads and learns from articles in the NGS Quarterly. Learn how reading case studies can help you improve your own research.
Register Here
---
Thursday April 1, 2021
10:00am to 11:00am
Oregon Land Claim Records
Gerry Lenzen shows you how to find genealogical treasures in Oregon's Land Claim records. The GFO has copies of these on hand.
Register Here
1:00pm to 2:30pm
U.S. Federal Census Records
Geri Auerbach shows you how to get the most out of U.S. federal census records.
Register Here
---
Friday April 2, 2021
10:00am to 11:00am
Freedmen's Bureau Records
Janice Sellers leads this session about the Freedmen's Bureau Records. Anyone with African American or southern roots should know about these valuable records. Janice is the leader of the GFO's African American Ancestry Group.
Register Here
1:00pm to 3:00pm
French Canada Ancestry SIG
Our French Canada ancestry group will have a special presentation by SIG member Rita Carpenter on the French Canadian connection to the Cadillac-Detroit area.
Register Here
---
Saturday April 3, 2021
10:00am to 12:00pm
Virginia SIG
Indentured Servants: Our Forgotten Ancestors - Those of us with colonial ancestors are likely to have indentured servants in our families. In some colonies as many as 75% of the population were indentured. This discussion will include the four categories of these servants, the system of indenture, and the causes. We'll look at the life of these people, and some suggestions for research.
Register Here
1:00pm to 3:00pm
German SIG
The German Interest Group meets monthly online on the first Saturday from 1PM to 3PM.
Register Here
---