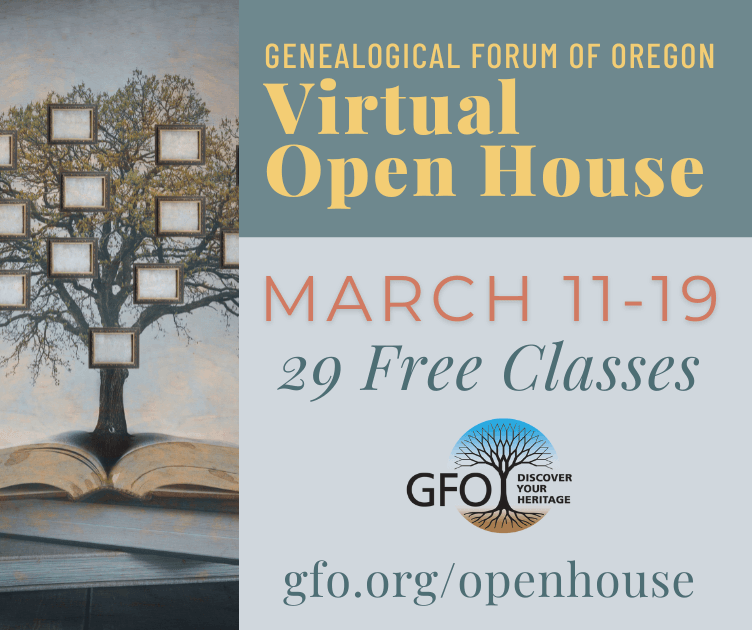 2023 Open House: March 11-19
All Open House events are free - a great chance to see what GFO is all about!
Please invite your friends.
Each class requires its own advance registration and the registration links can be found below.  After completing each registration, you will receive an email with the corresponding Zoom meeting link for that individual class.
Please keep these emails handy because you'll need them in order to join the presentation.  These presentations will not be recorded, unless otherwise noted below.
!!!   Please note that all class times are Pacific Time.   !!!
We look forward to seeing you!
Please click here to get our flyer and share it with your friends and other genealogical organizations. 
---
Saturday March 11, 2023
9:30am to 11:00am
Introducing the GFO
Laurel Smith
Learn about the abundant resources the GFO provides for everyone researching their family history: A library with more than 57,000 holdings, an online library catalog, a robust website with indexes and links, and the members-only destination known as MemberSpace.
Register Here

No Handout
11:30am to 1:00pm
The Hidden Treasures: Utilizing Newspapers in Genealogical Research
Eric Vaughn
Newspapers offer a treasure trove of great information and details that can assist individuals with their genealogy research. Participants will learn what information can be obtained through newspapers, overview of various free and paid newspaper subscription services, search strategies to locate the information you are looking for, and methods to organize your newspaper finds.
Register Here

Handout
1:30pm to 3:00pm
Leave No Stone Unturned: Finding Elusive Ancestors in FamilySearch
Debbie Gurtler, AG®
FamilySearch adds millions of new records every week. Are you finding everything you should? This presentation will highlight a variety of ways to search the vast collections of FamilySearch and demonstrate some innovations to help everyone to be more successful in their family history research.
Register Here

Handout
---
Sunday March 12, 2023
9:30am to 11:00am
United States Laws and How They Relate to Immigration
Emily Bakly
Since 1820 there have been many factors influencing immigration to the United States. Learn how knowing the history and laws in the United States can help you locate and understand your immigrant ancestor.
Register Here

Handout
(rev. 13 Mar 2023)
1:30pm to 3:00pm
Three Free Websites for Scandinavian Research
Savannah Larson
Do you have ancestors in Sweden, Norway or Denmark? You're in luck! Each of these countries offers robust national archive websites with many tools to help the everyday genealogist. Come learn how to make the most of these websites and get other "cheat codes" to help you with your Scandinavian research.
CANCELED

Handout
3:30pm to 5:00pm
British Special Interest Group
Duane Funk
Ports and Shipping: What was it like to cross the Atlantic in the days before air travel? And where are the records?
Register Here

No Handout
---
Monday March 13, 2023 - Slavic Day
10:30am to 12:00pm
Germans from Russia: Tools, Tips, and Tricks
Hailey Wentz
At the invitation of Catherine the Great, many German families settled in the Russian Empire, especially near the Volga River and the Black Sea. Come learn about how to tackle the genealogical research of your German ancestors who lived in Russia! Learn about some of the resources available and people who can support you along the way.
Register Here

Handout
1:30pm to 3:00pm
Czech Cadastral Maps
Mckenna Cooper, MSc, AG®
Cadastral maps were created for each town and village in the Czech lands, and include house numbers, the materials buildings were made from, and other geological features such as forests and rivers. The original sketches were often updated for years after the original was sent to Vienna and usually include the names of farmers on the exact strip of land that they farmed. They are a fantastic resource for determining where your ancestor's house and land were located. This class will go over how to find the maps online and how to navigate the Czech websites to find a particular village and house.
Register Here

Handout
3:30pm to 5:00pm
Polish Geneteka: Online Indexes and Images
Katerina Schmidt
Geneteka.genealodzy.pl is an incredible resource for Polish genealogy! This website has a searchable index for many records across all parts of Poland and includes a section for digitized records you can explore when indexes are unavailable. This is a great starting place for researching your Polish ancestors and can often return immediate results. This class will discuss the different features on Geneteka and will use the live website to demonstrate its practical use.
Register Here

Handout
---
Tuesday March 14, 2023
9:30am to 11:00am
Great Lakes Special Interest Group
Kim Thurman
Whether you have deep Midwestern roots or your ancestors merely "passed through," the Great Lakes region offers numerous resources for genealogical exploration. Join us to learn about the Great Lakes SIG and discover online options to advance your research in the original Northwest Territory.
Register Here

Handout
(rev. 14 Mar 2023)
11:30am to 1:00pm
Logs, Sources, and Documents: Oh My!
Heidi Gailey
This class covers three important topics: When locating ancestors do not be apprehensive about using research logs! Research logs are vital because of the complexity of the research journey and this class will teach you how to create and use them. The class will also provide tips and solutions for locating and understanding sources and documents to improve your search and elevate your confidence in the accuracy of your findings.
Register Here

Handout
1:30pm to 3:00pm
Maximizing Your Research Time
Julie A. Anderson, MA, AG®
Every genealogist knows it is easy to lose track of time when you are excited about a research project. This presentation will show you how to write a focused research goal, use the best records to answer your research questions, properly analyze the evidence you find, and record and share your results to maximize your precious research time.
Register Here

Handout
3:30pm to 5:00pm
Genealogical Resources at the Oregon State Archives
Kim Gorman, Archivist
Discover the myriad of records available at the Oregon State Archives and learn tips for navigating our online resources.
Register Here

Handout
---
Wednesday March 15, 2023
10:00am to 12:00pm
Learn & Chat Special Interest Group
Sandy Alto
Drop in for a meeting of our Learn & Chat SIG for a discussion of all things genealogical including problem solving, useful websites, and looking at "brick walls" in a different fashion. This is a welcoming and friendly place to talk genealogy.
Register Here

No Handout
1:00pm to 3:00pm
Getting Started with AncestryDNA
Lisa McCullough
Did you receive an AncestryDNA kit as a holiday gift and don't know how to interpret your results? If so, this session will help you learn how to navigate the AncestryDNA portion of the Ancestry Website and what to do next to get the most from your gift. The presentation will also expose you to some of the tools offered at other DNA testing companies that AncestryDNA does not offer.
Register Here

No Handout
3:30pm to 5:00pm
Compare DNA Companies
Tim Janzen
This presentation will compare and contrast each of the 5 major DNA testing companies that offer tests for genetic genealogists. The major features of each of the tests offered by companies will be reviewed.
Register Here

Handout
---
Thursday March 16, 2023 - German Day
9:30am to 11:00am
Websites to Access German Documents
Fritz Juengling Ph.D., AG®
In this class you will learn the major websites to access German documents and how to use them.
Register Here

Handout
11:30am to 1:00pm
Understanding German Documents for Family History
Annette Adams
An overview of record types commonly used for German Research; German Church books, civil registration, and a few other samples. Presentation will include where to find handwriting helps, samples of documents, church, civil registration, distinguishing handwriting and print.
Register Here

Handout (rev. 16 Mar 2023)
1:30pm to 3:00pm
The ABCs of the Old German Script
Charlotte Noelle Champenois, AG®
Starting from the beginning—the alphabet—dive into how to decipher individual letters of the old German script. Learn how to use that knowledge to decipher key genealogical terms, based on context and expected record content, to start you on your own road to discovering the hidden treasures in your German-language records.
Register Here

Handout
3:30pm to 5:00pm
German Gazetteers and Parish Register Inventories
Baerbel Johnson
Do your "homework" at home! Many useful German reference books needed by genealogists are now available on free websites. Learn how to find the correct spelling of your ancestor's home town and determine its location, parish and civil jurisdictions, and other details. This helps you find out where the records are housed and how you can get the information you need.
Register Here

Handout
---
Friday March 17, 2023
9:30am to 11:00am
The British Columbia Genealogical Society, Canada - Resources for Family Historians
Eunice Robinson
The British Columbia Genealogical Society, located in Surrey, British Columbia Canada, is celebrating 53 years in helping family historians with their research. Our library has over 18,000 books, plus magazines, periodicals, map and journals in our collection. We have many databases available exclusively in our library. Monthly meetings; an e-newsletter; a quarterly e-journal. And much more. This presentation will talk about the resources available through the BCGS.
Register Here

No Handout
11:30am to 1:00pm
What's in a Name? Immigrant Name Changes
Alyssa Gamble
Have you ever wondered about name changes that occurred with your immigrant ancestors? Many immigrants to the United States wanted to assimilate into their new country. This includes altering their names to be more "American." This class will teach you why people immigrated to the United States, when they changed their names, common trends, and how to apply it to your research.
Register Here

Handout
1:30pm to 3:00pm
National Archives: What Can You Find in NARA at Seattle?
Crystal Shurley & Brita Merkel
Crystal Shurley and Brita Merkel, Archive Technicians with the National Archives at Seattle, will be providing an introduction to conducting genealogical research at NARA. Ms. Merkel will speak about the basics of genealogical research. Ms. Shurley will speak about the records specific to Seattle and how to use NARA's online catalog.
Register Here

Handout (Merkel)
Handout (Shurley)
3:30pm to 5:00pm
Discover the City of Portland Archives
Madeline Moya
The City of Portland Archives & Records Center is where the City of Portland's historical government records are kept, and we're here to help ensure Portland residents have open and accountable city government through public access to City records. The Archives & Records Center also plays a role in preserving our city's cultural and historical record. Our records date back to Portland's formation in 1851 and include maps, plans, project files, reports, correspondence, and an extensive collection of historic photographs that all tell the story of Portland. Join Reference Archivist Madeline Moya to learn about the resources available at the City of Portland Archives and how you can access them!
Register Here

No Handout
---
Saturday March 18, 2023
9:30am to 11:30am
Genealogy Problem Solvers Special Interest Group
Brick Wall Team
Learn how the GFO's Genealogy Problem Solver team approaches brick walls in genealogical research. We don't solve them all, but we can help take a few bricks down. The topic for this presentation is 1852 Oregon or Bust.
Register Here

No Handout
12:00pm to 2:00pm
Online Resources for Black American Genealogy Research
Janice Sellers
Researching Black American ancestry is in many respects like researching any other family history, but in addition, some specialized online sources are unique to Black research. Learn about the most useful of these sites, what information you can expect to find, and how you can use it to help advance your research. This meeting will be recorded.
Register Here

Handout
2:30pm to 4:00pm
GenTalk: Introduction to the Family History Guide
Bob Taylor
A walkthrough of the main features of the website, which is dedicated to making genealogists' research easier, more efficient, and more enjoyable.
Register Here

Handout
---
Sunday March 19, 2023
11:30am to 1:00pm
Writing Your Own Family History
David Bruey
Family history books take many forms ranging from some stapled photocopied pages to thick hardcover volumes. Some histories trace only one family surname while others trace all ancestral lines. Some stop at listing the "begats" while others go deeper to tell stories of ancestors' lives. There is not only one "correct" way to write a family history. Each is a unique product of its author's creativity. This class will present numerous options open to prospective writers. It will use The Ancestry of Amelia Marilla Morley to illustrate the stages of writing and publishing from the book's original conception to its acceptance onto the shelves of major genealogical libraries.
Register Here

No Handout
1:30pm to 3:00pm
Family Tree Maker Application Overview and New Updates
FTM Special Interest Group
Join the Family Tree Maker SIG for an overview of the Family Tree Maker and application updates as well as searching, syncing, matching and merging with an online database such as Ancestry, Family Search and others.
Register Here

No Handout
3:30pm to 5:00pm
Beyond Your Typical Records
Angela Cloward
This presentation will cover record sets beyond birth, marriage, death, and census records. Come learn about other record sets that your ancestors may appear in and the wealth of information to be discovered in them.
Register Here

No Handout
---
At the GFO Library
hours vary
GFO Library Open
Open for research during Open House with no day-use fee!
1:00pm to 5:00pm Sunday
9:30am to 5:00pm Monday
9:30am to 5:00pm Tuesday
1:00pm to 5:00pm Wednesday
1:00pm to 5:00pm Thursday
1:00pm to 5:00pm Friday
1:00pm to 5:00pm
Beginning Research Help
Consult our research assistants for help in starting your research. (Six sessions available each afternoon)
2:30pm to 3:15pm
GFO Library Tour
Join us in person at the library for our introductory tour. Learn how the library is organized, resources we have to offer, and discover our special collections.
<< Go to TOP >>