Registration is now open!
---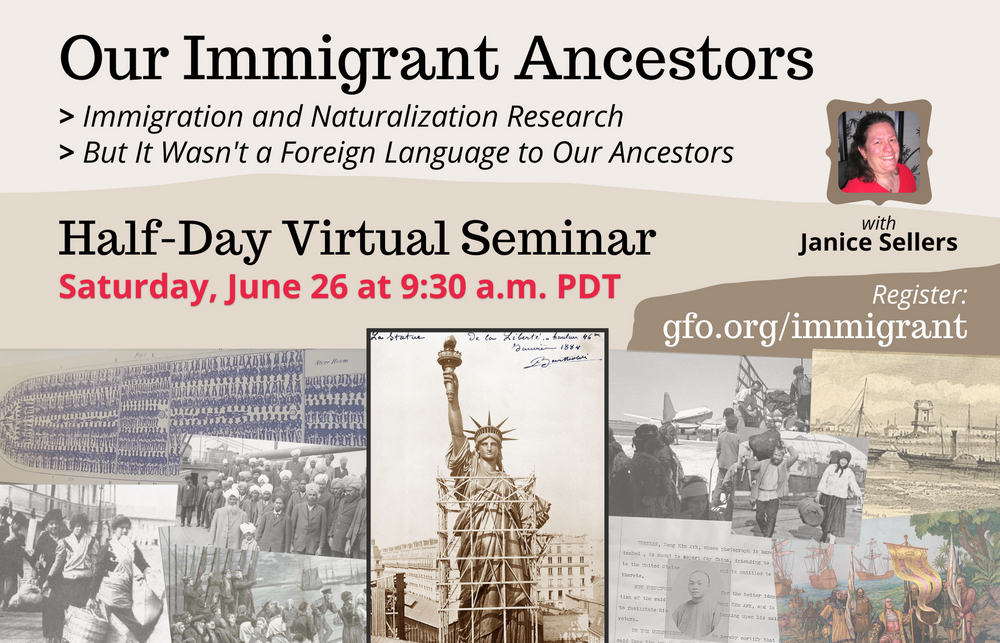 ---
Our Immigrant Ancestors Webinar
This form stopped accepting submissions on June 26, 2021 9:30 am PDT.
Online registration only.
Our Immigrant Ancestors
Immigration and Naturalization Research

When researching an immigrant ancestor, finding information here in the U.S. is the necessary first step. This class identifies resources and provides tools and strategies to help you make the leap to the "old country."
But It Wasn't a Foreign Language to Our Ancestors

Learning something about the languages your ancestors spoke will assist you in your research. Recognizing how names were pronounced can help you find people in indexed records; many name changes entailed translating the name into that of the new country. Online resources available to help you include word lists, alphabets, and translation engines.

Janice Sellers
Janice is a professional genealogist specializing in Black, Jewish, dual citizenship, forensic, and newspaper research. She is the editor of ZichronNote, the quarterly journal of the San Francisco Bay Area Jewish Genealogical Society (SFBAJGS), as well as the publicity director, programming director, and a board member of SFBAJGS. She is a member of the Association of Professional Genealogists, Council for the Advancement of Forensic Genealogy, Genealogical Speakers Guild, and Genealogical Forum of Oregon. She has volunteered at Family History Centers since 2000 and gives presentations on many genealogical topics at the local, regional, state, and national/international levels.
Contact Information
---