Registration is now closed.
---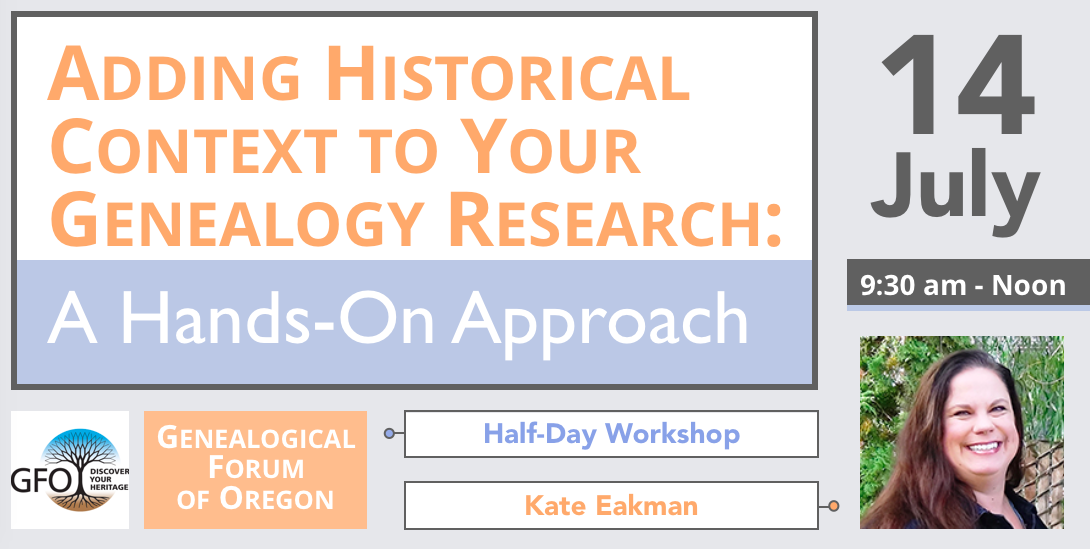 ---
Adding Historical Context: Half-Day Workshop
This form stopped accepting submissions on July 12, 2019 12:00 am PDT.
You can register and pay online, or download the registration form and send in payment. Note: Your registration is not complete until we receive payment. If the event is sold out before we receive your payment, you will be put on a waiting list.
Adding Historical Context: A Hands-On Approach
Adding historical context to our genealogical research makes it richer, more interesting, and helps to explain some of the changes in our families. But if you aren't a historian how do you know when there is an opportunity for adding history to our research? In this workshop we will:
Practice identifying items, events, and topics ripe for historical research.
Once the questions have been asked, we will learn how to find those answers.
Finally, we will discuss how to add this new-found information to our family's history.
Kate Eakman, MA
Kate holds an MA in History from the University of North Carolina at Chapel Hill with additional graduate work in history and education from Immaculata University, Lewis and Clark College, and Seattle Pacific University. Today she is a Senior Researcher and Team Lead for Legacy Tree Genealogists, and has taught a variety of classes and made genealogical presentations across the United States.
---