Registration Now Open!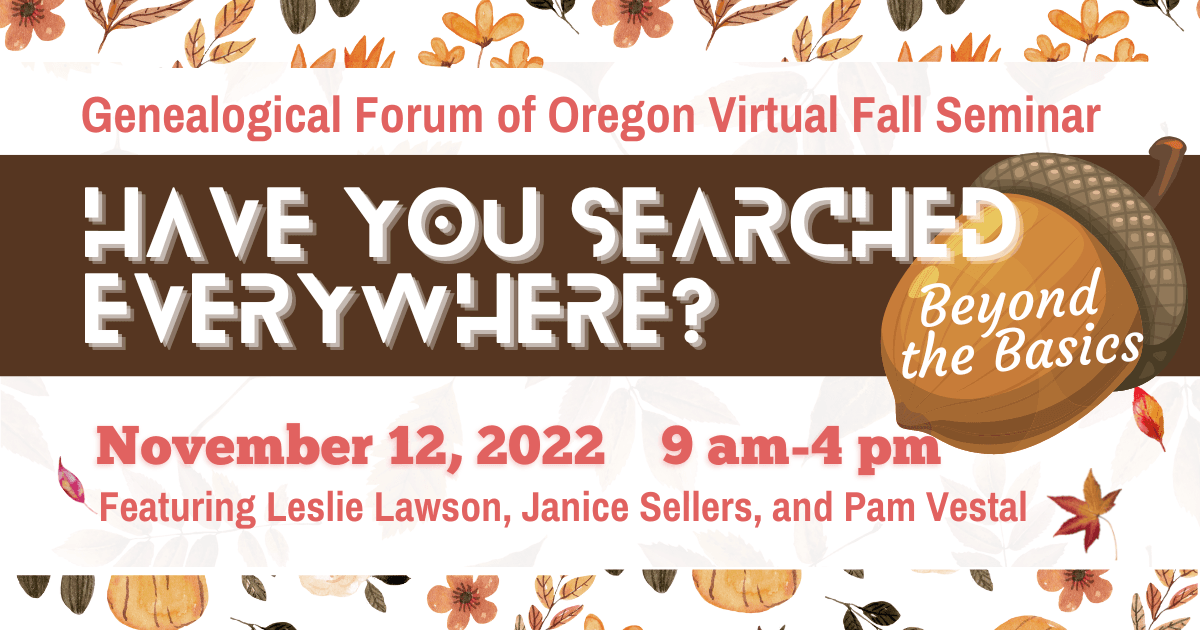 ---
Virtual Fall Seminar 2022
Member price:
$35 thru Oct. 15 ($40 thereafter)
Non-Member price:
$50 thru Oct. 15 ($55 thereafter)
Have You Searched Everywhere? Beyond the Basics
Go beyond the basics and become familiar with lesser-known genealogical strategies and resources. Come join us on Saturday, November 12th for this one day event. We start with presenters that will show you how to find living people and how you can get better results with your newspaper searches. Then join us for a workshop on discovering your ancestors' locations. Learn how collateral research and using less common sources can help break down those brick walls.
9:00 a.m. - 10:00 a.m. (PT) with Leslie Brinkley Lawson

Let's Find Living People: Locating People in the Last Century
10:15 a.m. - 11:15 a.m. (PT) with Janice M. Sellers

Read All About It! Using Online Newspapers for Genealogical Research
1:00 p.m. - 4:00 p.m. (PT) with Pam Vestal

Finding our Ancestors' Locations - INTERACTIVE WORKSHOP
Contact Information
---
Meet Our Speakers
---