Registration now open!
---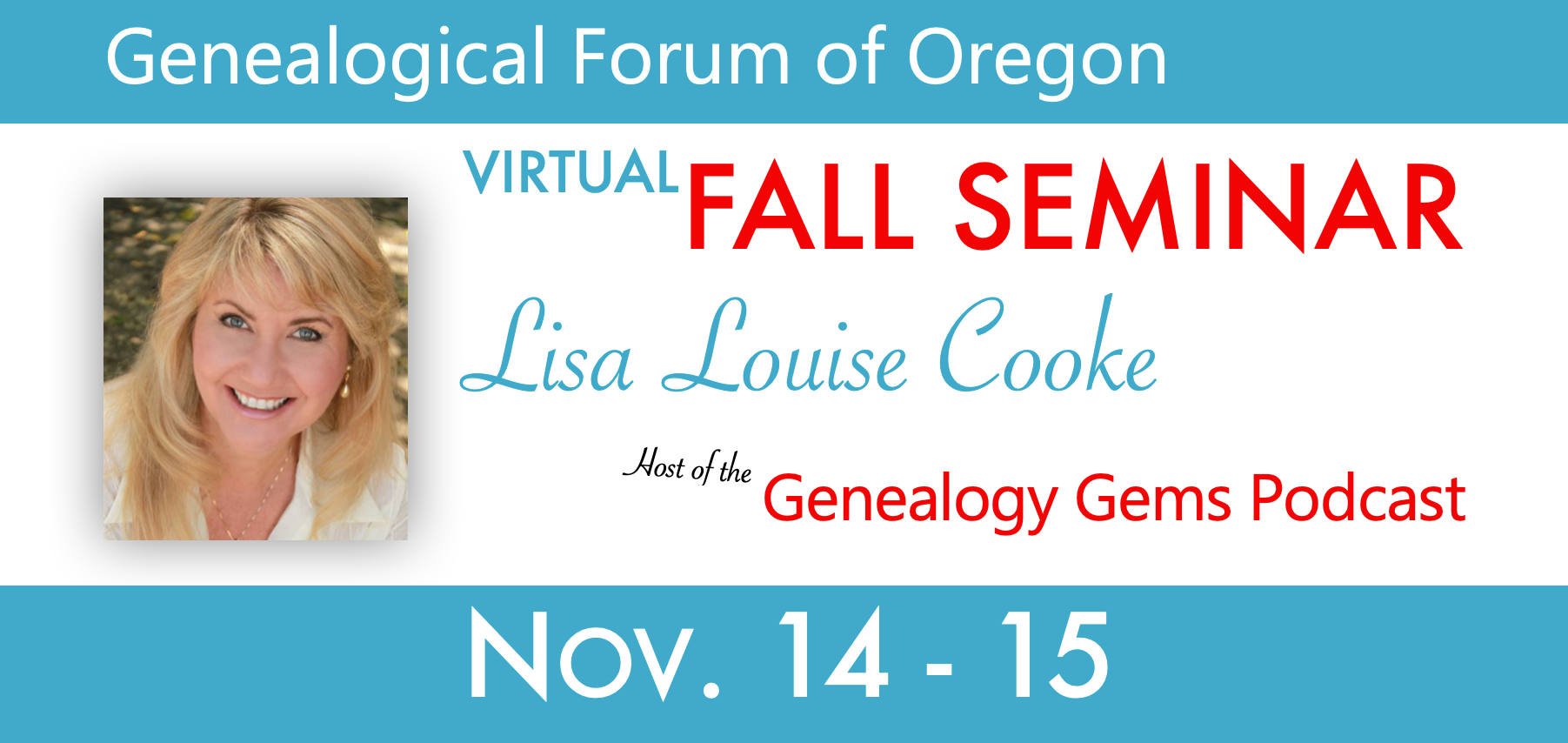 ---
Fall Seminar with Lisa Louise Cooke
This is a two-day, live and online event. Registration for either one or both days is
online only.
The link for the webinar will be emailed to you about one week prior to the event, along with the handouts. All handouts are electronic - no paper hard copies - and are included with your registration.
Meet Our Speaker
Lisa Louise Cooke is CEO of Genealogy Gems, a genealogy education company featuring The Genealogy Gems Podcast, available at in iTunes, and the Genealogy Gems app. Her books include Mobile Genealogy, The Genealogist's Google Toolbox Second Edition, How to Find Your Family History in Newspapers, and she has published 100+ videos at the Genealogy Gems YouTube Channel. She also produces The Family Tree Magazine Podcast, regularly writes for the magazine, and teaches for Family Tree University.
Saturday, November 14: 9 a.m. to 2:30 p.m.
Cost - $30 (members) or $50 (non-members)
Saturday Classes
How to Reopen and Work a Genealogical Cold Case

Become a genealogical detective in this vital session. You'll learn to track ancestors like a criminal cold case detective, sniffing out holes in your research and getting missing information on the record with cutting edge technology.
Search Strategies for Common Surnames

Discover tips and tricks to find your ancestors with common surnames and surnames that double as common words in the English language with Google. Learn how to weed out irrelevant search results to save time and get to what you want faster. Then save and automate your searches to run for you! You'll not only improve your searches, but also improve the chances that the information you post online will be found by other genealogists facilitating collaboration!
Google Earth Pro for Genealogy

Google Earth Pro is a 360 degree three dimensional way to view your ancestor's world! In this session you will learn how to use Google Earth's tools in conjunction with genealogical research techniques to identify old photos, find, plot and virtually visit your ancestor's homestead, and locate and utilize historic maps. Finally, Google Earth has the power to geographically document your ancestor's lives. Every genealogist can benefit from using Google Earth Pro, and best of all, it's FREE!

GFO Tip: Download and play around with Google Earth Pro a little bit before the seminar ... this will make it much easier to follow along with Lisa.
Tap into Your Inner Private Eye: 9 Strategies for Finding Living Relatives

Learn the techniques that Private Investigators use to track down missing people. These strategies will help you find those elusive living relatives who just may hold the key to your brick wall or possess that treasured photo you've been looking for.
Sunday, November 15: 1 p.m. - 3:30 p.m.
Cost - $15 (members) or $25 (non-members)
Sunday Classes
How to Organize All this Genealogy Stuff:

Save yourself future frustration and disappointment by putting a solid genealogy organizational plan in place for all the types of items that will be coming your way. I personally use the systems that I am sharing with you, and they have proven to be reliable and efficient. We will cover systems for 4 types of stuff:
Organizing All This Paper! The Physical Items Organization System
Organizing All That Genealogical Data! The Family Tree Data Organization System
Organizing All These Digital Files! The Digital Organization System
Organizing All that Web Information! The Online Notetaking System
How to Save Your Research from Destruction & Ensure Its Future Survival:

Don't let your lifetime of genealogy research end up in the landfill! Lisa Louise Cooke will teach you the 7 key strategies to securing the future of your research including designating a "research keeper," setting up a Genealogy Materials Directive, and making donations with a Deed of Gift. Don't miss this class – your family research legacy depends on it!
Contact Information