Register now!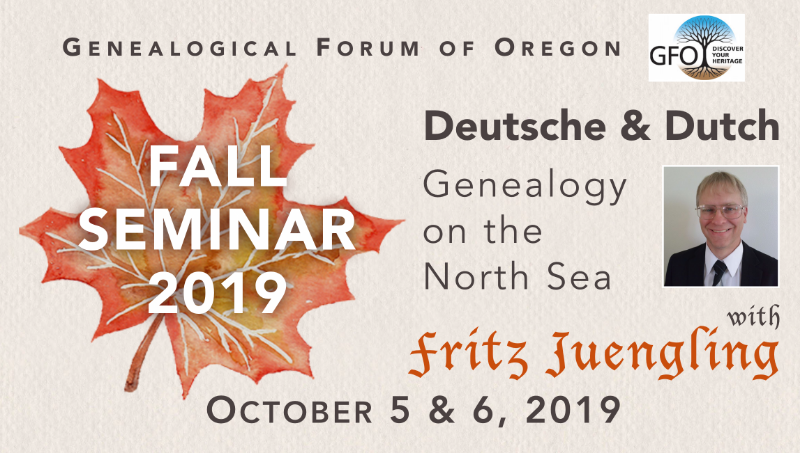 ---
Fall Seminar with Fritz Juengling
This is a two-day event. Register for one day or for both days. You can register and pay online, or download the flyer/registration form from the link below and send in payment. Note: Your registration is not complete until we receive payment. If the workshop is sold out before we receive your payment, you will be put on a waiting list.
NEW THIS SEMINAR:
Paper copies of the syllabus are no longer available for advance purchase, but will be available for $3 at the door.
About the Speaker
Fritz Juengling, PhD, AG®
earned his PhD in Germanic Philology with minors in both English and Linguistics. Germanic Philology is a highly specialized field of study, combining languages, linguistics, paleography and history. For his graduate degrees, Dr. Juengling was required to demonstrate competence in English, German, Medieval Latin, Dutch and Norwegian. He is an Accredited Genealogist® for Germany, the Netherlands, Belgium, and Sweden through ICAPGen, and is certified by the
Verband deutschsprachiger Berufsgenealogen.
Dr. Juengling is a German, Dutch, and Scandinavian Research Consultant at the Family History Library in Salt Lake City.
Saturday Full-Day Seminar:
Saturday, October 5
Center for Self Enhancement (SEI)
3920 N. Kerby Ave.
Portland, Oregon
10 a.m. to 4:30 p.m.
Saturday Lunch: Bring your own lunch or order from GG's Deli. A lunch selection form will be sent with your confirmation. Lunches must be ordered by noon on Oct. 2. Lunch break 12:30 - 1:30 p.m.
Saturday Seminar Features: Books for sale from Heritage Quest and the GFO; Raffle; Coffee, tea, and snacks provided
Syllabus: electronic copy included for both days
Saturday Class Descriptions
German Phonetics
German Names: Their Origins, Meanings and Distribution
FamilySearch for German Genealogy
Beyond the Obvious: Practical and Social Reasons for Emigration to America
Sunday Half-Day Seminar:
Sunday, October 6
Genealogical Forum of Oregon
2505 SE 11th Avenue #B-18
Portland, Oregon
9:30 a.m. - noon
Sunday Class Descriptions
Beginning Dutch Research
Dutch Names: Sorting through Patronyms, Tussenvoegsel and More