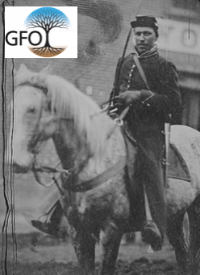 African Americans in the Civil War Era
This form stopped accepting submissions on February 25, 2018 9:30 am PST.
REGISTER NOW using the button above. You can register and pay online, or download the registration form and send in payment. Note: Your registration is not complete until we receive payment. If the event is sold out before we receive your payment, you will be put on a waiting list.
Presenter: Kate Eakman, M.A.
African-American Civil War Military and Pension Files
In this class we will discuss:

Using 20th century census reports to determine if your ancestor served in the Civil War
Other methods for determining if your ancestor was potentially a member of the U.S. Colored Troops
Where military files are located and how to search them for your ancestors
What information is contained in a military record from the Civil War
Where the pension files can be found and how to obtain a copy of your ancestor's pension file
What information is contained in a Civil War pension file
How a pension file can help you trace your African-American ancestor's family further back in time
Using the Freedmen's Bureau Records and other Reconstruction-Era Documents to Trace Your African-American Ancestors
After the Civil War's end in April of 1865 the Bureau of Refugees, Freedmen, and Abandoned Lands (the Freedmen's Bureau) was created to provide assistance to former slaves (and impoverished whites) in the South. The war had resulted in the liberation of about 4 million enslaved people, but it also destroyed many of the southern cities and towns as well as the plantation-based economy. Former slaves were free, but they had been dislocated from their homes and they faced starvation and powerful racial biases and inequalities.
The records from the Freedmen's Bureau and other records of 1865-1872 include local censuses, marriage records, medical records, bank account records, and voting registers. These, in turn, can provide the names of spouses, children, siblings, parents, and former slave-owners as well as places of birth and locations where an individual lived between birth and freedom. This class will focus on the contents of these documents, where to locate them, and how to use them to add details to, and possibly extend your family tree.
About the Presenter:
Kate Eakman holds an M.A. in History from the University of North Carolina at Chapel Hill. Prior to embarking on her career as a professional genealogist, Kate spent 20 years as a college history professor creating interactive and participatory courses including a genealogically-based study of U.S. History. Today she is a Senior Researcher for Legacy Tree Genealogists. She has taught a variety of classes on genealogical topics and has been invited to make numerous presentations around the country. Kate's article "Writing the Professional Research Report: Style and Format" was awarded the APGQ Excellence Award for 2016. She currently serves as the co-editor of the GFO Bulletin.
---